Motegi: Criticism of state funeral 'out of tune with public'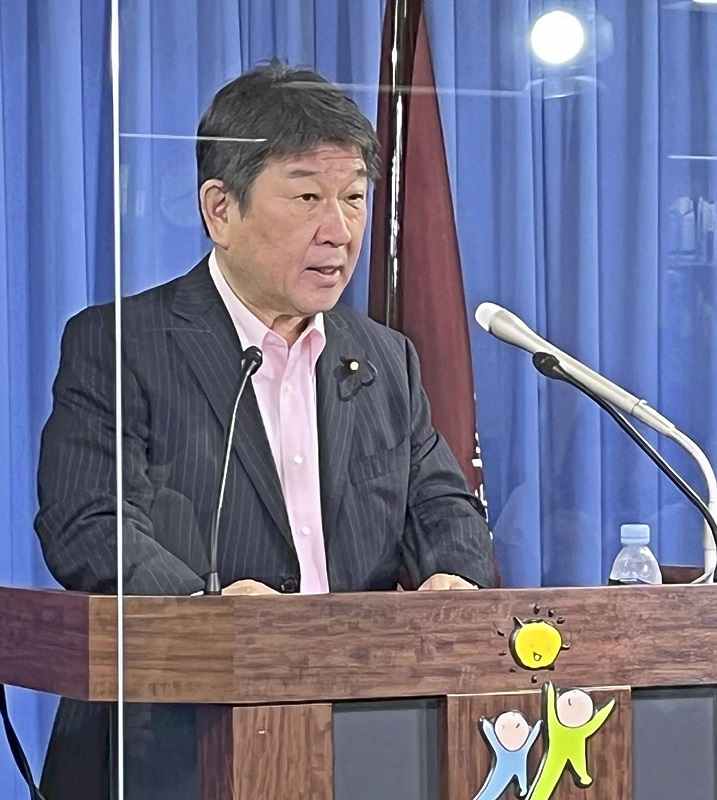 15:33 JST, July 20, 2022
Liberal Democratic Party Secretary General Toshimitsu Motegi brushed aside criticism of the government's plan to hold a state funeral for former Prime Minister Shinzo Abe at a press conference Tuesday, claiming the opinions were "far out of tune with public sentiment."
According to Motegi, 18,000 people paid their respects at a floral tribute stand at LDP headquarters from July 11-15.
"There is absolutely no legal problem with the government holding a state funeral based on the Cabinet's decision," Motegi said at the press conference.
"We are not aware of any questions being raised among the public about holding a state funeral," he said.
The Japanese Communist Party has released a statement saying that a state funeral would "glorify Abe's politics." Reiwa Shinsengumi and the Social Democratic Party are also opposed to the state funeral.
"The government's explanations are inadequate in many respects, and the public has voiced numerous concerns. There should be no pressure [to express condolences]," Constitutional Democratic Party of Japan leader Kenta Izumi said at a party meeting Tuesday, calling for the decision to be reviewed.
At the LDP meeting, Prime Minister Fumio Kishida said the government would take all possible measures to ensure the safety and security of foreign dignitaries at the state funeral.
"We'll reinforce security measures in light of the incident [the fatal shooting of Abe]," Kishida said.
Komeito leader Natsuo Yamaguchi said Tuesday, "We commend the prime minister's decision [to hold a state funeral] in terms of the significance of reaffirming the importance of democracy."
Defense Minister Nobuo Kishi, Abe's younger brother, said he felt "honored" that a state funeral was being held for a family member.
Diet eulogy
The LDP is considering delivering a eulogy for Abe during an extraordinary Diet session to be convened on Aug. 3. The government will discuss the schedule with opposition parties based on the wishes of Abe's family.
The LDP plans to submit a proposal to opposition parties at a board meeting of the House of Representatives Rules and Administration Committee. If the two sides fail to reach an agreement, the LDP will consider delivering the eulogy in the Diet session after the one in August.
In the past, party leaders or former prime ministers have delivered eulogies after the deaths of incumbent lawmakers who had served in the nation's top post.
Former Prime Minister Tomiichi Murayama of the Social Democratic Party delivered a speech at a memorial for former Prime Minister Keizo Obuchi, who died in 2000.
Add TheJapanNews to your Google News feed.