Biggest faction of Japan's ruling party mulls collective leadership system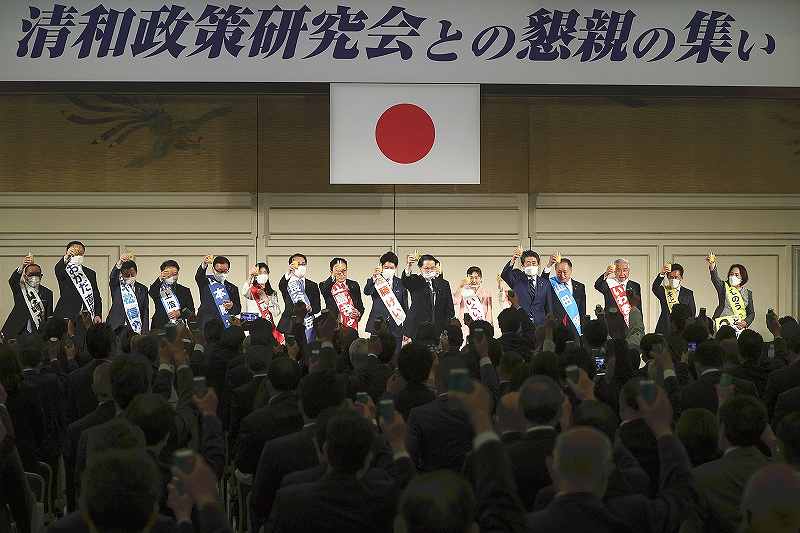 16:33 JST, July 14, 2022
Members of the Liberal Democratic Party faction that was led by former Prime Minister Shinzo Abe are considering the establishment of a chair-less ruling council comprising several leading lawmakers. The Seiwa Seisaku Kenkyukai faction has no clear successor to Abe, who was shot dead on July 8, and some within the group believe that a collective leadership structure could help avoid factional splits.
Urgent issue
According to the proposal, former policy chief Hakubun Shimomura, who serves as one of the faction's acting chairmen, will become a council advisor, while former education minister Ryu Shionoya, also an acting chairman, will become the council's representative.
Other members of the council would include Secretary General of the House of Councillors Hiroshige Seko, chairperson of the faction within the House of Councillors; former minister in charge of economic revitalization Yasutoshi Nishimura, secretary general of the faction; Chairperson of the Diet Affairs Committee Tsuyoshi Takagi, vice chairperson of the faction; Chief Cabinet Secretary Hirokazu Matsuno; and Economy, Trade and Industry Minister Koichi Hagiuda.
The selection of Abe's successor is being viewed as a medium- to long-term issue within the faction. It is believed that Abe intended for potential successors to compete among themselves and develop their abilities over time.
"If we were to hastily choose one of the four rivals, there would be dissatisfaction and the faction would split," a senior faction member opined.
Speaking at a press conference on Tuesday, Seko said: "It's important that we be united. We'll carry on Mr. Abe's legacy as one." Appearing on a TV program on Monday, Shimomura said, "We're all aware that we mustn't divide."
Struggle for leadership
Seiwa Seisaku Kenkyukai has produced four consecutive prime ministers since Yoshiro Mori in 2000, and its membership has swelled over the years. However, this increase has made it more difficult to achieve faction unity.
In the 2012 presidential election — Abe's second as party president — then faction chairman and former Chief Cabinet Secretary Nobutaka Machimura also ran, creating conflict within the group.
In terms of policy, the faction may be open to new ideas, as former Defense Minister Tomomi Inada, who serves as the faction's executive director, has expressed a certain understanding of having separate surnames for married couples, while Abe was reluctant to consider this idea.
Following Abe's death, there have been calls for Mori to rule and for the return of former faction chairman Hiroyuki Hosoda, now speaker of the House of Representatives.
But even if a collective leadership structure is established, concerns over a struggle for control will remain. Some within the faction have argued that it would be more logical for acting chairpersons Shionoya and Shimomura to take the lead.
It is possible that the council's composition could become a contentious issue in the future.
"The faction was united because of Abe," a party source said. "It sounds good to call it a collective leadership structure, but if conflicts of opinion within the faction come to the surface, a split will be inevitable."
Add TheJapanNews to your Google News feed.