Japan Medical Association picks new head, aims to mend ties with govt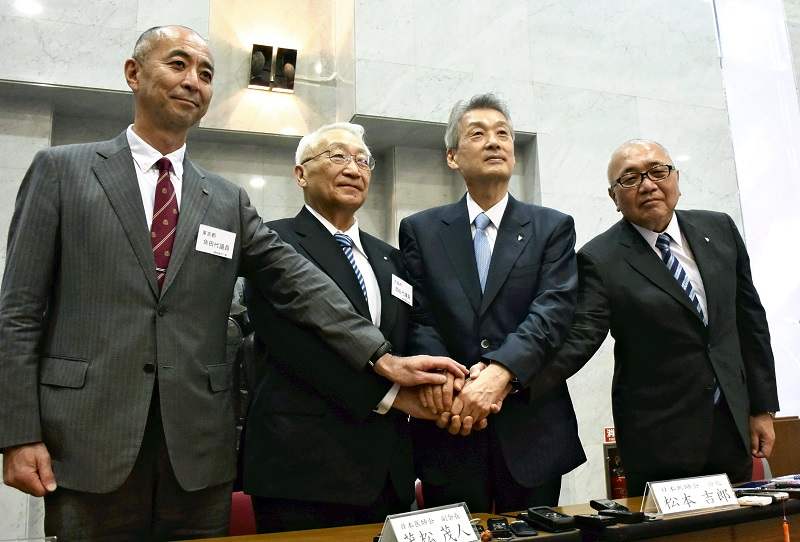 20:00 JST, June 26, 2022
The Japan Medical Association has elected a new president, Kichiro Matsumoto, following intense scrutiny over its response to the novel coronavirus pandemic. Matsumoto faces the difficult task of repairing relations with the government and the ruling parties, as well as restoring public trust.
Successive presidents of the association have served as chairpersons of Nihon Ishi Renmei — an influential group that supports the Liberal Democratic Party — and have exerted great influence on national medical policies, including the revision of medical service fees.
Speaking at a post-election press conference on Saturday, Matsumoto said, "As an association, we want to expose our human side to the political world, too, thus helping to facilitate smooth communication with politicians."
He emphasized he would take a different approach from that of his predecessor, Toshio Nakagawa, who had a strained relationship with the government and the ruling bloc. While in office, Nakagawa declared he would deal with the government on an issue-by-issue basis, and refrained from building relationships with the administration's senior officials.
Nakagawa also was cautious about hosting the Tokyo Olympics and Paralympics amid the coronavirus pandemic, saying the government's Go To Travel tourism campaign "definitely triggered a spread of infections." His remarks drew criticism from the ruling bloc, with one member saying, "Nakagawa made his assertion without any evidence." These tense relations continued, leading one senior Finance Ministry official to say, "There's no need to give special consideration to Nakagawa."
As part of this fiscal year's medical service fees revisions, the government decided to introduce "refill prescriptions," which allow prescriptions to be used repeatedly. The association had opposed the system. Refill prescriptions reduce the burden on patients and help curb medical costs, but the system has a negative impact on the management of medical institutions.
As a result, dissatisfaction with Nakagawa grew within the association, and he had to forgo running for office. It is unusual for a president not to run for a second term.
Matsumoto won the election with the full support of Yoshitake Yokokura, a former president of the association who has built good relationships with LDP Vice President Taro Aso and former Prime Minister Shinzo Abe.
The association is a public interest incorporated association that supports physicians across Japan. The current body was established in 1947 and as of December had 173,895 members.
Add TheJapanNews to your Google News feed.