Japan to promise developing nations tens of billions of yen in food aid at G7 summit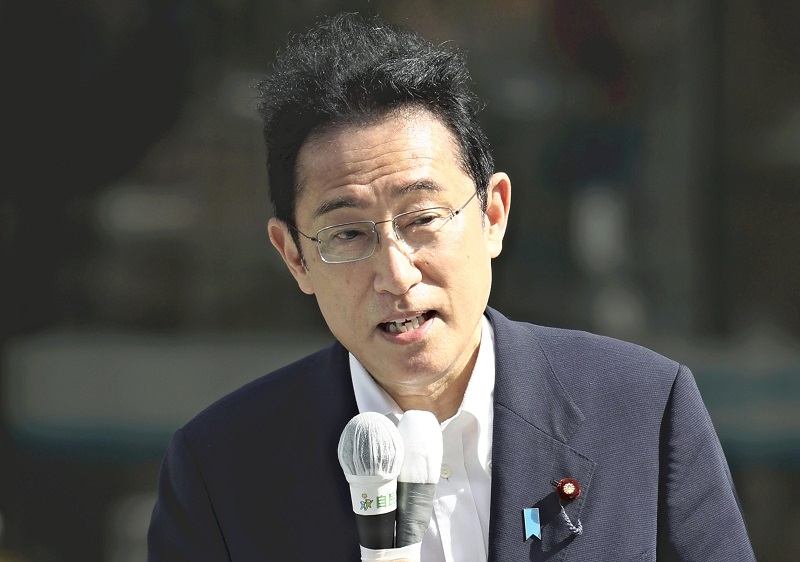 6:00 JST, June 26, 2022
Prime Minister Fumio Kishida plans to declare, at the Group of Seven summit to be held in Germany from Sunday to Tuesday, that Japan will provide food assistance to developing countries facing a food crisis due to the impact of Russia's armed aggression in Ukraine. Coordination is underway to extend the assistance, worth tens of billions of yen.
As Russia has blockaded ports on Ukraine's Black Sea coast, the supplies of farm products from Ukraine have dropped sharply, which has sent global grain prices soaring. This has caused a food crisis in areas including the Middle East and North Africa.
The government intends to increase its contribution to such organizations as the World Food Program, which supplies food to developing countries.
Meanwhile, Japan will also contribute assistance for the expenses of building additional storehouses in Ukraine as the stored quantity of grain produced in the country has been rising due to declines in export volume. Japan also intends to extend assistance to Ukraine to secure an alternative route for exporting grain from Ukraine via Romania.
According to the U.N. Food and Agriculture Organization (FAO) and other organizations, Ukraine is an agricultural powerhouse, as the world's fifth-biggest exporter of wheat and one of the top three for corn. Russia's blockade of Ukraine's Black Sea ports is said to have halted grain exports from Ukraine on the scale of 20 million tons.
At the G7 summit, international food security caused by Russia's aggression in Ukraine will be the main theme.
Away during campaign
It is unusual for the prime minister, also president of the ruling Liberal Democratic Party, to go on a large-scale overseas tour during the campaign period for a national election.
Considering the harsh security environment Japan faces, Kishida has concluded it is necessary for him to attend the G7 summit in Germany, and also the summit of the North Atlantic Treaty Organization (NATO) to be held in Spain. By doing so, he also aims to impress upon the public that "Kishida is active in diplomacy."
"We cannot protect our country single-handedly. I will push ahead with cooperation with many other countries through summit diplomacy. Japan's diplomatic power will be tested," Kishida said during a roadside speech on Friday in Funabashi, Chiba Prefecture, emphasizing the importance of Japan pursuing multilateral diplomacy.
After making campaign speeches in Yamanashi and Saitama prefectures and Tokyo on Saturday, he will attend the G7 summit in Elmau, Germany, from Sunday, and the NATO summit in Madrid on Wednesday, to discuss issues such as Russia's armed aggression in Ukraine with G7 and NATO leaders. Kishida will be the first Japanese prime minister to attend a NATO summit. He will return to Japan on Thursday afternoon.
As Japan is a G7 member, his attendance at the G7 summit had long been a fixed plan. But regarding the summit of NATO, of which Japan is not a member, Kishida took some time to make his decision. Attending that summit as well will mean his being away from Japan for five of the 18 days of a national election campaign, thus reducing his opportunities to make campaign speeches to support candidates fielded by his party.
If candidates for whom Kishida campaigns with speeches win seats in the Diet, his unifying power as prime minister will be increased. In the case of first-time lawmakers who win with his help, it will become easier for him to persuade them to join his own faction. From the viewpoint of solidifying the foundation of his administration, some officials around Kishida suggested that he should "attend only the G7 summit, and prioritize election campaigning."
Yet, in the light of the harsh environment Japan faces, including threats posed by Russia, China and North Korea, his attendance at the NATO summit will be a golden opportunity for Japan to beef up its cooperation with countries in the West. Kishida hopes to share the urgent sense that "Ukraine today may be East Asia tomorrow," with leaders of these countries through his upcoming overseas tour.
Within the LDP, there is a view that even if Kishida is out of Japan for five days, he will still be able to offer on-the-spot support to candidates in what are considered "priority constituencies," where Kishida's support is called for. Kishida himself and others have concluded that the five-day absence is within a permissible range.
Some also hope that, as one veteran party member put it, "If he can display to voters his presence playing an active role on the international stage, the current atmosphere, with attention solely on rising prices, will change."
If the result of his overseas tour — meaning whether he can enhance his presence in the international community — also leads to a rise in his approval rating, it is likely to have an impact on the outcome of the House of Councillors election, too.
Add TheJapanNews to your Google News feed.