Japan to establish an infectious disease crisis management agency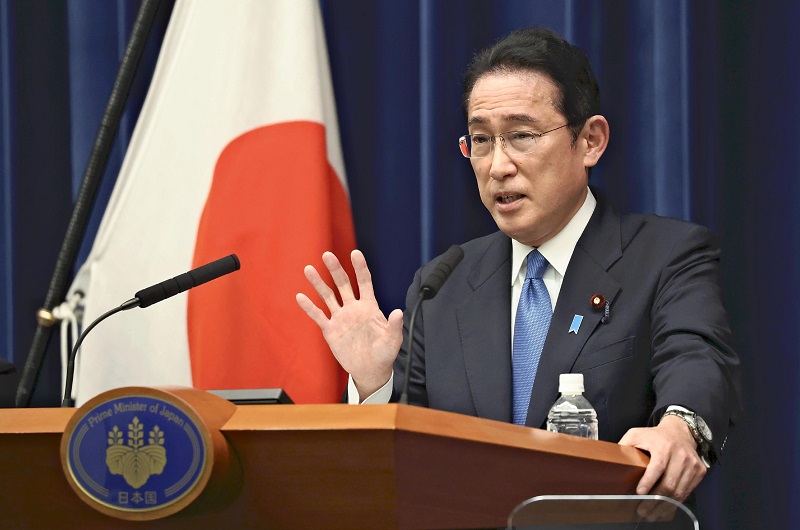 20:36 JST, June 16, 2022
The government plans to establish a Cabinet infectious disease crisis management agency to strengthen the nation's response, Prime Minister Fumio Kishida announced Wednesday.
At a press conference following the closing of the ordinary Diet session, Kishida also revealed expanded measures to stimulate tourism demand nationwide from July and the establishment of a task force to tackle issues related to the recent surge in prices.
Regarding the government's coronavirus pandemic response, the prime minister said, "We will continue our efforts so that our daily lives can return to normal as soon as possible."
The government also plans to establish a Japanese version of the U.S. Centers for Disease Control and Prevention, integrating the National Institute of Infectious Diseases and the National Center for Global Health and Medicine.
Kishida said he aims to revise legislation to strengthen the authority of the national and local governments in preparation for future pandemics.
Regarding tourism, Kishida said measures to stimulate demand will be finalized after the status of infections in June has been confirmed.
Financial support will be expanded for travel discount campaigns operated by prefectures. Currently, the support is only available for travel to neighboring prefectures. The plan is for the discounts to cover travel nationwide.
Kishida also stressed the need for generous measures to deal with soaring food prices following Russia's invasion of Ukraine.
If the surge in imported wheat prices continues through October, the government will intervene to keep wheat prices low to prevent the price of bread and noodles from soaring. To address soaring fertilizer prices, the government will "reduce the production cost of agricultural products by up to 10%," Kishida said.
Regarding energy prices, the prime minister said, "It's necessary to take measures to curb the rise in electricity bills and ensure stability in supply and demand," calling on the public to conserve electricity.
Next week, the prime minister plans to present measures to help ease the burden of high electricity bills, including the introduction of a points system for conserving electricity.
Kishida also said he plans to attend the North Atlantic Treaty Organization summit in Spain later this month, which would make him the first Japanese prime minister to do so.
Other measures announced included a "substantial increase" to the lump-sum childbirth and child-rearing handout, which is currently set at ¥420,000 in principle.
On the Bank of Japan's monetary easing measures, Kishida said, "I expect [the BOJ] to continue its efforts to maintain the price stability target in a sustainable and stable manner."
Kishida also commented on the House of Councillors election slated for July 10. Members of the upper house are elected for six-year terms, with half the seats up for election every three years.
Kishida said the target was for "ruling coalition lawmakers of the Liberal Democratic Party and Komeito to secure a majority" in the house, including the seats it holds that are not up for a vote this time.