Criminal complaint filed against ex-PM Abe over party scandal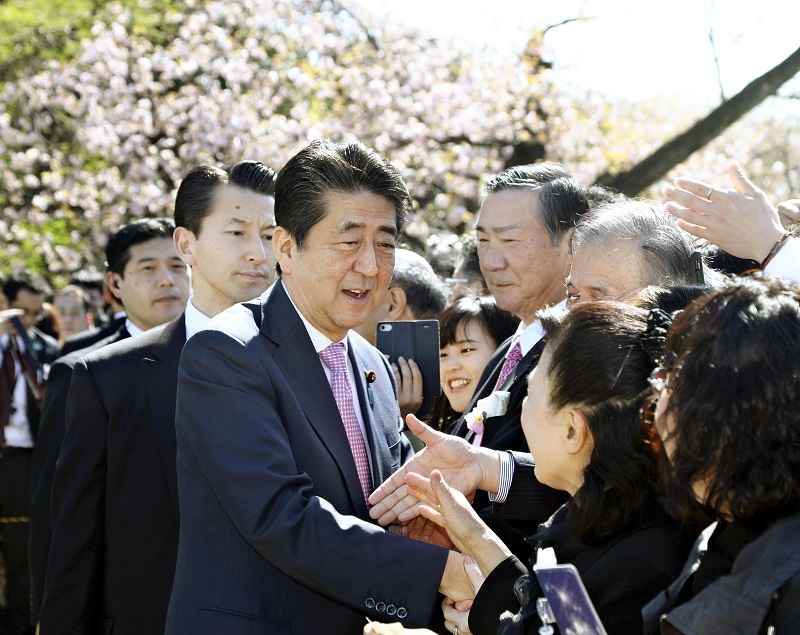 16:07 JST, June 11, 2022
TOKYO (Jiji Press) — Civic groups filed a criminal complaint against former Prime Minister Shinzo Abe and three others Friday on suspicion of violating the political funds control law over controversial dinner parties.
Abe and others were allegedly involved in the failure to report alcoholic beverages provided for free by Suntory Holdings Ltd. for use at the parties between 2017 and 2019, each held by Abe's support group at a Tokyo hotel on the eve of the government's publicly funded annual cherry blossom-viewing event.
The complaint was submitted to the Tokyo District Public Prosecutors Office's special investigation team.
Over the dinner parties, Abe and others were hit by a criminal complaint in 2020 and investigated by the special squad.
Later, a summary indictment was given to a 62-year-old former state-paid secretary to Abe for omitting dinner party costs totaling some ¥30 million from the support group's political funds reports between 2016 and 2019.
He was charged with breaching the political funds control law and fined, while Abe was not indicted.
Abe's office said prosecutors made the decisions as a result of the Abe side's full cooperation in the investigation. The office also said that past political funds reports have been corrected appropriately.
According to the complaint filed Friday, a treasurer of the support group did not state in the reports beer and other alcoholic beverages totaling some ¥450,000 that Suntory provided for free for dinner parties held between 2017 and 2019.
The complaint also said that Abe and the former state-paid secretary failed to fulfill their supervisory responsibility while a Suntory official breached donation restrictions.
According to Suntory, beverages were also provided for free for a 2016 dinner party, but details are unclear as the person who handled the matter has already left the company.
"We supported the dinner parties as we thought it would be a great opportunity to let people know about our products," a company official said.