Investment in human resources highlighted in economic policy drafts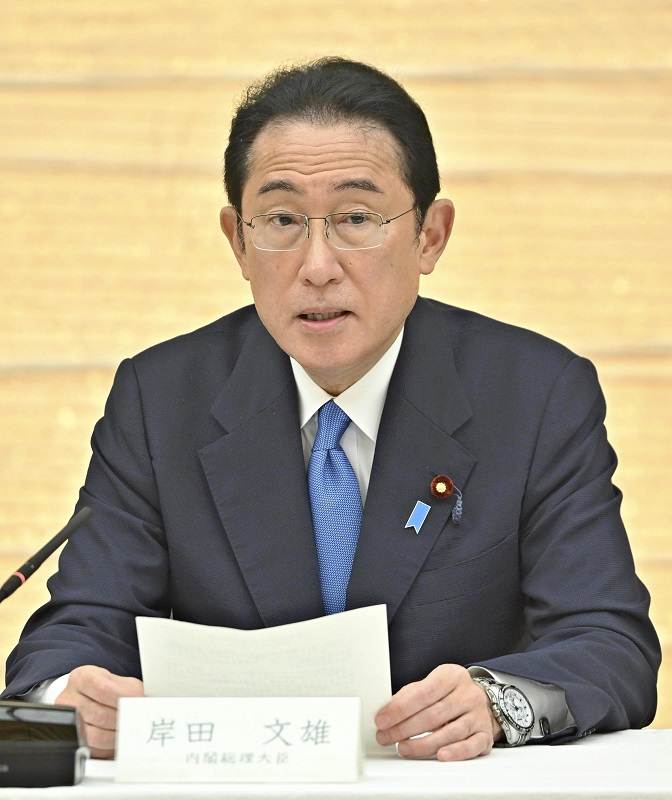 16:04 JST, June 1, 2022
The government will harness investments in human resources to achieve economic growth, according to two drafts compiled in line with Prime Minister Fumio Kishida's signature "new capitalism" policy.
The government will also fundamentally bolster the country's defense capabilities in light of the ongoing Ukraine crisis, according to the drafts of the Basic Policy on Economic and Fiscal Management and Reform and the new capitalism action plan, which were released on Tuesday.
"Efforts to tackle social challenges that cannot be solved by the market alone will be utilized as engines for growth," Kishida said at a meeting of a council convened to realize his new capitalism policy.
Final coordination will be held among the ruling and other parties and the government plans to approve the two drafts at a Cabinet meeting by next Tuesday at the earliest.
The two drafts lay out policies to revitalize the economy and put the country on a new growth path, with heavy investments in four areas: human resources; science, technology and innovation; startups; and decarbonization and digitization.
According to the draft of the new capitalism action plan, investment in human resources will encourage companies to raise wages and shift personal finances, most of which are currently in the form of savings, to investment, thereby "creating a virtuous cycle in which the benefits of increased corporate value are passed on to households."
In addition to expanding the Nippon Individual Savings Account small-lot investment system, known as NISA, the government will consider expanding the age requirement for enrolling in the Defined Contribution pension plan, known as iDeCo, from under 65 years old to 70.
The government will also formulate a plan to double incomes from personal assets by the end of the year.
To enable workers to move smoothly into growth fields, the government will provide skill development and re-employment support for about 1 million people, including non-regular workers. A system for workers to receive advice on switching jobs and career development will also be established.
The draft of the Basic Policy on Economic and Fiscal Management and Reform states that the government will "fundamentally strengthen defense capabilities" in light of the increasingly severe security environment and attempts to unilaterally change the status quo in Ukraine, East Asia and other regions.
Regarding economic security, the draft calls for the establishment of a fund and subsidies to ensure the stable supply of critical commodities such as semiconductors, rare earth elements and pharmaceuticals. The diversification of fossil fuel procurement sources to reduce the dependence on Russia was also included in the draft.
The draft also stipulated that starting from the budget compilation for the next fiscal year,the government will introduce a new policymaking method that reflects administrative evaluations based on scientific data.
Add TheJapanNews to your Google News feed.