Prime Minister Kishida's omotenashi hospitality includes Hiroshima lemon soda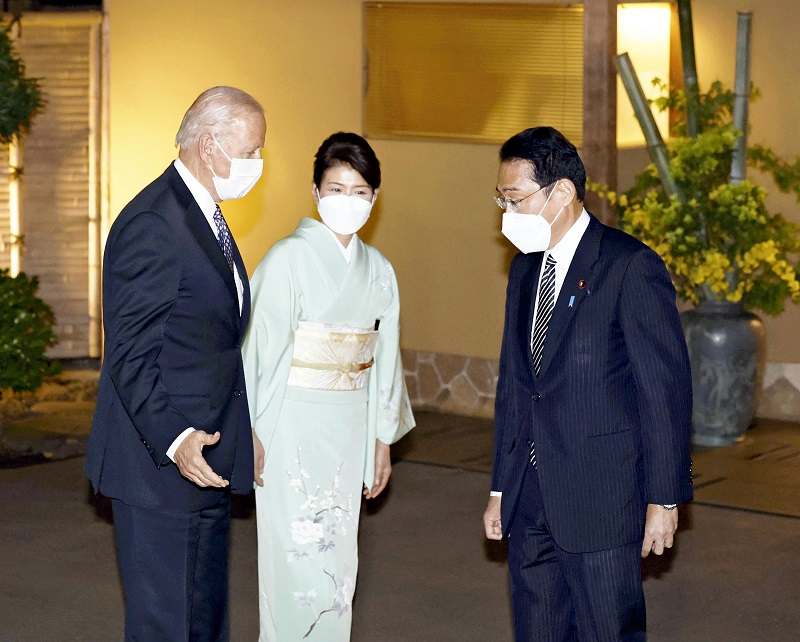 12:42 JST, May 26, 2022
Prime Minister Fumio Kishida made every effort to entertain U.S. President Joe Biden during his first visit to Japan as president, just as previous prime ministers have done in the past.
Everything was carefully thought out since frank discussion outside formal meetings is essential for the two countries to foster a relationship of mutual trust.
Grilled Jinseki beef fillet and vegetables from Hiroshima Prefecture, Kishida's home turf, were served at their working lunch on Monday at the State Guest House Akasaka Palace in Moto-Akasaka, Tokyo.
A dinner party was later held at Happo-en, a garden estate in Minato Ward, Tokyo, where salmon and chicken — Biden's favorites — were served instead of Hiroshima specialties. For dessert, gelato made in Natori, Miyagi Prefecture, was served as a nod to Biden's visit there during his vice presidency in August 2011, after the Great East Japan Earthquake.
Despite being known to enjoy drinking, Kishida refrained in consideration of Biden, who does not drink alcohol, and toasted with soda made with Hiroshima lemons.
Throughout the 85-minute dinner party, Kishida and Biden were said to have talked about their constituencies (Biden was a longtime senator from Delaware) and how their hometowns are both famous for oysters. Before dinner, Kishida's wife, Yuko, served Biden matcha green tea.
Happo-en is said to have been the estate of a samurai in the early Edo period. The 40,000-square-meter site has a Japanese garden and tea houses.
"With its spacious garden, we chose this place where they could speak frankly with one another," Deputy Chief Cabinet Secretary Seiji Kihara said.
Personal twists

Omotenashi hospitality extended by previous Japanese prime ministers to U.S. presidents reflects the personality of the prime minister at that time.
Former Prime Minister Yasuhiro Nakasone and former President Ronald Reagan held a total of 12 meetings while both were in office. When Reagan visited Japan in November 1983, Nakasone stirred matcha tea for Reagan and his wife at his mountain villa in Hinode, Tokyo. The two called each other "Ron" and "Yasu" and strengthened their relationship.
Since their first meeting in June 2001, former Prime Minister Junichiro Koizumi and former U.S. President George W. Bush built a close relationship that is said to have been the best in the postwar era. Koizumi visited Kyoto's Kinkakuji temple with Bush and his wife during their visit to Japan in November 2005.
Former Prime Minister Shinzo Abe's specialty was golf diplomacy. When former President Donald Trump visited Japan for the first time in November 2017, they played golf with professional golfer Hideki Matsuyama at the Kasumigaseki Country Club in Kawagoe, Saitama Prefecture. Abe and Trump spent nearly 10 hours together during the president's three-day visit, demonstrating their close relationship to people in Japan and around the world.
Add TheJapanNews to your Google News feed.