Japan, U.S. to agree to promote open 5G standards in Indo-Pacific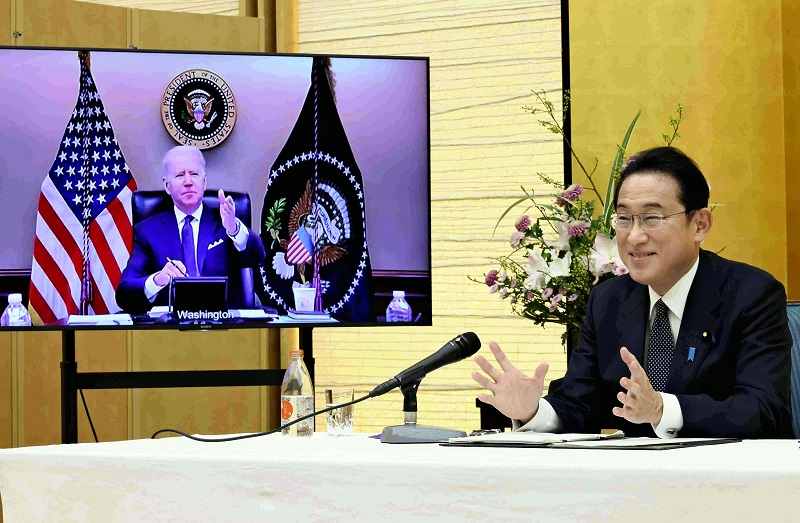 17:32 JST, May 21, 2022
Prime Minister Fumio Kishida and U.S. President Joe Biden are expected to agree to promote open telecommunication standards in the Indo-Pacific region to support the rollout of 5G when the two leaders meet on Monday, The Yomiuri Shimbun has learned.
The expected agreement will be based on open standards to ensure that telecommunication equipment from any company can be used in wireless base stations.
According to several government sources, the move is aimed at countering attempts by Chinese companies such as Huawei Technologies Co. to promote their country's standards in base stations required to operate high-speed, high-capacity 5G networks.
If Chinese standards are adopted for 5G networks in the Indo-Pacific region, Japanese and U.S. companies could be excluded from the market.
Security concerns have also been raised over the fact that a limited number of operators would have significant influence over the telecommunications network.
Under the expected agreement, the Japanese and U.S. governments will establish a training institution in Southeast Asia by the end of this year to help develop human resources capable of promoting open standards for 5G networks.
Tokyo and Washington are also considering conducting joint research and investing in joint projects, according to the sources.
On Monday, Kishida and Biden are expected to confirm support for the development of human resources in the cyber security sector in Southeast Asian countries.
According to the sources, Washington will send experts to the ASEAN-Japan Cybersecurity Capacity Building Centre in Bangkok, which was established with support from the Japanese government.
Kishida and Biden are also expected to agree that their governments will conclude a space accord on lunar activities in 2023 as part of the U.S.-led Artemis program for manned missions to the moon.
The envisioned agreement is expected to specify the roles of each country in lunar activities and confirm cooperation in the field over several decades.
Biden was scheduled to fly from South Korea to Japan on Sunday.
The U.S. president will meet the Emperor on Monday morning, before having his first face-to-face meeting with Kishida later in the day.
In the afternoon, Biden will have a meeting with family members of Japanese nationals abducted by North Korea, before attending a banquet to be hosted by the prime minister.
On Tuesday morning, Biden will attend a meeting of leaders from the Quad — an Indo-Pacific strategic alliance that comprises Japan, Australia, India and the United States.
Biden is scheduled to board a flight back to the United States on Tuesday afternoon.
Add TheJapanNews to your Google News feed.