Foreign ministerial talks show no signs of improvement in Japan-China ties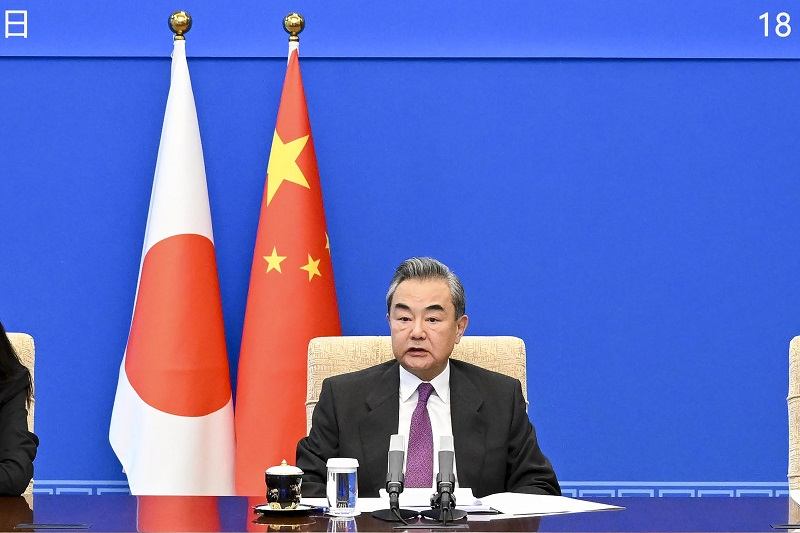 21:00 JST, May 19, 2022
Japan and China are seeking to build a stable relationship on the occasion of the 50th anniversary of the normalization of their diplomatic ties, but the latest talks between their foreign ministers showed no signs of improvement.
Foreign Minister Yoshimasa Hayashi expressed "serious concern" about issues such as the situation in the East China Sea and the South China Sea during a videoconference with Chinese State Councilor and Foreign Minister Wang Yi on Wednesday.
"Japan-China relations are facing various difficulties, and public opinion in Japan toward China is extremely severe," Hayashi said during the talks. "Both sides should fulfill their responsibilities to the international society together."
Chinese coast guard vessels have repeatedly intruded into territorial waters around the Senkaku Islands in Okinawa Prefecture. In the Pacific Ocean to the east of Taiwan, fighter jets take off from and land on the Chinese Navy aircraft carrier Liaoning almost daily, prompting Japan to increase its vigilance against the country.
Wang said at the talks, "Recently, Japan's negative moves on Taiwan and other issues involving China's core interests and major concerns have become prominent." 
He went on to say, "The Japanese side should honor the commitments it has made so far, abide by the basic faith between the two countries [and] prevent the forces attempting to undermine China-Japan relations from gaining ground."
According to the Japanese Foreign Ministry, this was the first time that a Japan-China foreign ministerial meeting was held by videoconference.
A person from the Japanese side who was present at the talks said Wang did not change his facial expression when Hayashi expressed concern about the issues, including the situation over the Senkaku Islands. However, when the two ministers confirmed the importance of moving forward with economic exchanges, Wang's facial expression relaxed.
"It was significant that they could hold talks while watching each other's reactions on the screen," a senior Foreign Minister official said.
The two countries will mark the 50th anniversary of the normalization of their diplomatic relations on Sept. 29. A state visit to Japan by Chinese President Xi Jinping was considered in 2020 when former Prime Minister Shinzo Abe was in office. However, such a visit was not even on the agenda for the foreign ministers' talks on Wednesday, due to persistent opposition from the Liberal Democratic Party in particular.
Wang reiterated a request for Hayashi to visit China. But a senior Japanese Foreign Ministry official said, "We are not considering the matter in detail."
Add TheJapanNews to your Google News feed.