Kishida ramps up diplomacy with European leaders amid Ukraine crisis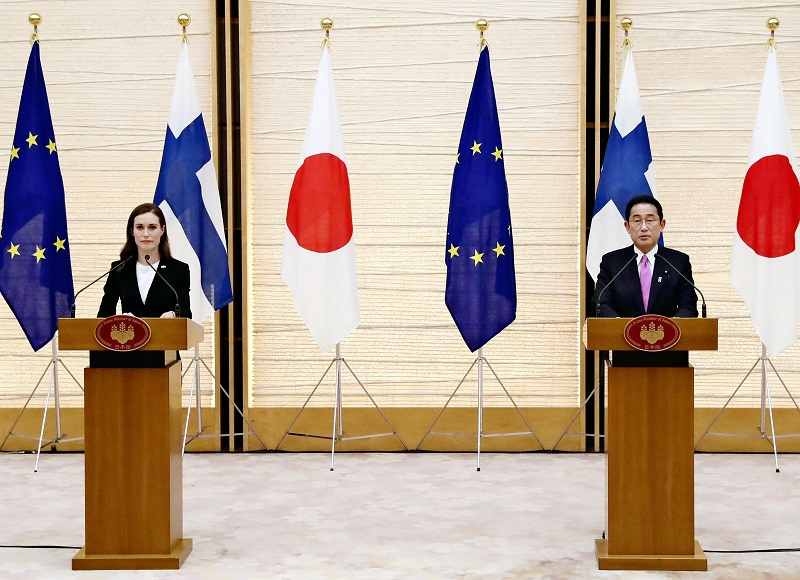 7:00 JST, May 15, 2022
Prime Minister Fumio Kishida has been actively engaging in summit diplomacy with European leaders following Russia's invasion of Ukraine.
The moves are part of efforts to strengthen the relationship between Japan and Europe and boost cooperation to defend the rules-based international order against Russia and China, which are increasingly taking steps to change the status quo by force.
At a dinner hosted by Kishida Wednesday in Tokyo, visiting Finnish Prime Minister Sanna Marin commented that Japan is in a difficult situation surrounded by Russia, China and North Korea, according to sources.
Finland is also increasingly wary of Russia as the two countries share a 1,300-kilometer border.
Marin's comment was interpreted as an expression of sympathy for the position of Japan, which faces the threat of China and North Korea in addition to Russia.
Kishida expressed understanding regarding Finland's plan to apply to join the North Atlantic Treaty Organization during the leaders' summit on Wednesday.
German Chancellor Olaf Scholz visited Japan in late April, and on Wednesday, European Council President Charles Michel and European Commission President Ursula von der Leyen were in Tokyo for talks.
It is rare for European leaders to visit Japan so many times in such a short period.
Kishida also paid visits to Britain and Italy during the Golden Week holiday period in early May.
Japan and Europe are closer than ever because they face a common threat from China and Russia, which are increasing pressure on their neighbors with the backdrop of military force.
The fact that Germany and other European countries had been putting an emphasis on economic ties with China was a cause for concern for Japan.
However, Japan and Europe have found themselves walking in step amid Russia's invasion of Ukraine and increasing awareness among European countries that China's hegemonic behavior is a challenge to the international order.
In Kishida's meetings with European leaders, concerns were shared about attempts to change the status quo by force, both in Europe and in Asia, with China and Russia in mind.
Similar concerns were shared by Foreign Minister Yoshimasa Hayashi in meetings with his British, French and German counterparts in Germany on Thursday and Friday.
Add TheJapanNews to your Google News feed.