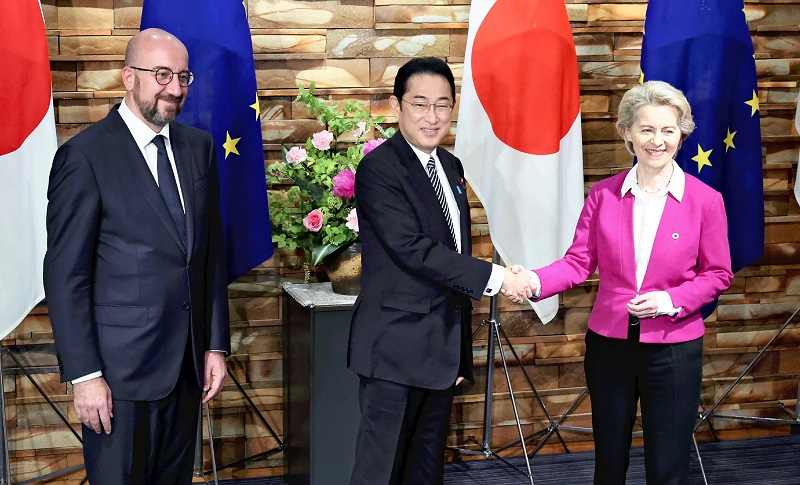 17:03 JST, May 12, 2022
Prime Minister Fumio Kishida held talks with European Council President Charles Michel and European Commission President Ursula von der Leyen in Tokyo on Thursday, during which the leaders agreed to work together against Russia over its invasion of Ukraine and cooperate further to achieve a free and open Indo-Pacific.
Japanese and EU leaders usually hold talks once a year. Thursday's meeting at the Prime Minister's Office was the 28th such summit, and the first in-person talks in three years.
Kishida strongly condemned Moscow at the start of Thursday's talks, saying, "Russia's aggression against Ukraine has shaken the foundations of the international order."
"Japan and the EU are implementing strong sanctions against Russia and will respond with firm resolve," he said.
Michel expressed hope for enhanced cooperation between Japan and the EU as they share the values of freedom, democracy and a rules-based international order. He also expressed his gratitude for Japan's participation in sanctions against Russia and support for Ukraine.
In September, the EU announced a strategy for cooperation in the Indo-Pacific with China in mind, calling for the bloc to step up its engagement with the region. China's maritime expansion in the East China Sea and South China Sea is behind the move.
The Japanese government hopes to deepen cooperation with the EU, including in the security field, such as by conducting joint training with the Maritime Self-Defense Force and EU maritime forces, as part of efforts to realize a free and open Indo-Pacific.
On Thursday, von der Leyen expressed caution about China-Russia cooperation and the threat it poses to the international order, citing the close relationship between Russian President Vladimir Putin and Chinese President Xi Jinping.
In Thursday's talks, the Japanese and EU leaders also vowed to strengthen cooperation in areas such as economic security, energy, environment and digital technology.
Following the summit, the leaders were expected to exchange views on North Korea, which is advancing its nuclear and missile development program, among other issues.
Kishida was also expected to ask the EU to lift restrictions on imports of Japanese food products that were imposed following the nuclear accident at a Fukushima power plant in 2011.
On Friday, Michel is scheduled to visit the Peace Memorial Museum in Hiroshima, which was devastated by an atomic bomb in 1945. At a joint press conference after the summit, Kishida said, "We want to cooperate with the EU toward the goal of achieving a world without nuclear weapons."
Add TheJapanNews to your Google News feed.