Johnson: Cooperation between U.K., Japan intensifying all the time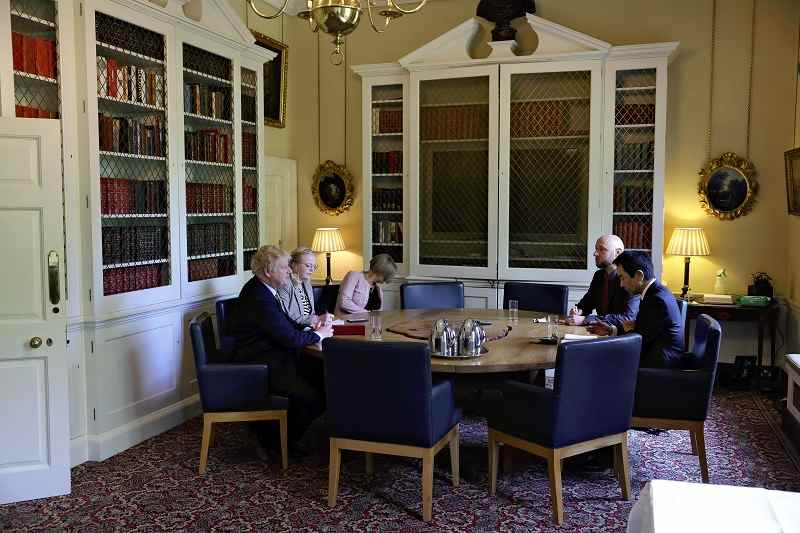 17:32 JST, May 6, 2022
British Prime Minister Boris Johnson shared his thoughts on the U.K.-Japan relationship, among other things, in an interview with The Yomiuri Shimbun. The following are excerpts from the interview.
The Yomiuri Shimbun: What do you have to say about the importance of the U.K.-Japan relationship against the backdrop of the recent developments, vis-a-vis Russia and China?
Boris Johnson: They are two island monarchies, two democracies. The U.K. and Japan have long had a shared perspective of the world and shared interests. [Japanese Prime Minister] Fumio Kishida's stance on Ukraine has been very, very powerful. It has been extremely important that Japan has stood up strongly against tyranny and aggression. What we understand is that our security is indivisible, whether it's in Europe, or in East Asia. There is a direct read-across between events in Ukraine and events in Taiwan, or in the South China Sea.
Yomiuri: In the longer term, does the Russian invasion of Ukraine have any impact on your Indo-Pacific strategy?
Johnson: It's vital that [Russian President Vladimir] Putin must fail in Ukraine, because otherwise, I think that will lead to a license to aggression by coercive autocracies elsewhere. And that's why there's a strong connection between what happens in Europe and our Indo-Pacific policy. We are emphasizing our relations with friends and partners, particularly Japan.
Yomiuri: Could you share your thoughts on the prospect of the U.K. joining the Quad, or Japan joining AUKUS — a framework among the United States, United Kingdom and Australia — or the Five Eyes?
Johnson: There are groups and bodies now of like-minded countries, whether it's the Quad, or the Five Eyes, or AUKUS, which create their own spheres of cooperation and mutual support and interest. It doesn't mean that they all have to have the same members. Japan might have a position that was wholly aligned with AUKUS on something, whether it's a security issue or technology, intelligence sharing, or whatever.
Yomiuri: Are you positive about Japan joining AUKUS?
Johnson: That's a matter for Japan. But we are certainly very positive about AUKUS, and very positive about Japan. AUKUS is not exclusionary. Perhaps I can say that is the most important thing, it is not meant to be exclusive, or exclusionary.
The cooperation between the U.K. and Japan is intensifying the whole time. It's going to go from strength to strength.
Yomiuri: What's your take on President Putin's nuclear saber-rattling? And what are you doing to make sure that we don't see another nuclear disaster in Ukraine?
Johnson: It's very important not to get sidetracked in this conversation. This is a confrontation between Russian aggression, Putin's armies, and an innocent sovereign country that has been invaded. All we're talking about is using conventional weapons to offer the Ukrainians the ability to protect themselves, that's all.
Yomiuri: You had a phone conversation with Chinese President Xi Jinping a couple of weeks ago.
Johnson: I simply said to President Xi that I thought it was a mistake for China to support Russia over the invasion of Ukraine, a strategic and political mistake. And we had a very good and a very, very interesting discussion.
Add TheJapanNews to your Google News feed.