Motegi marks first 6 months as LDP secretary general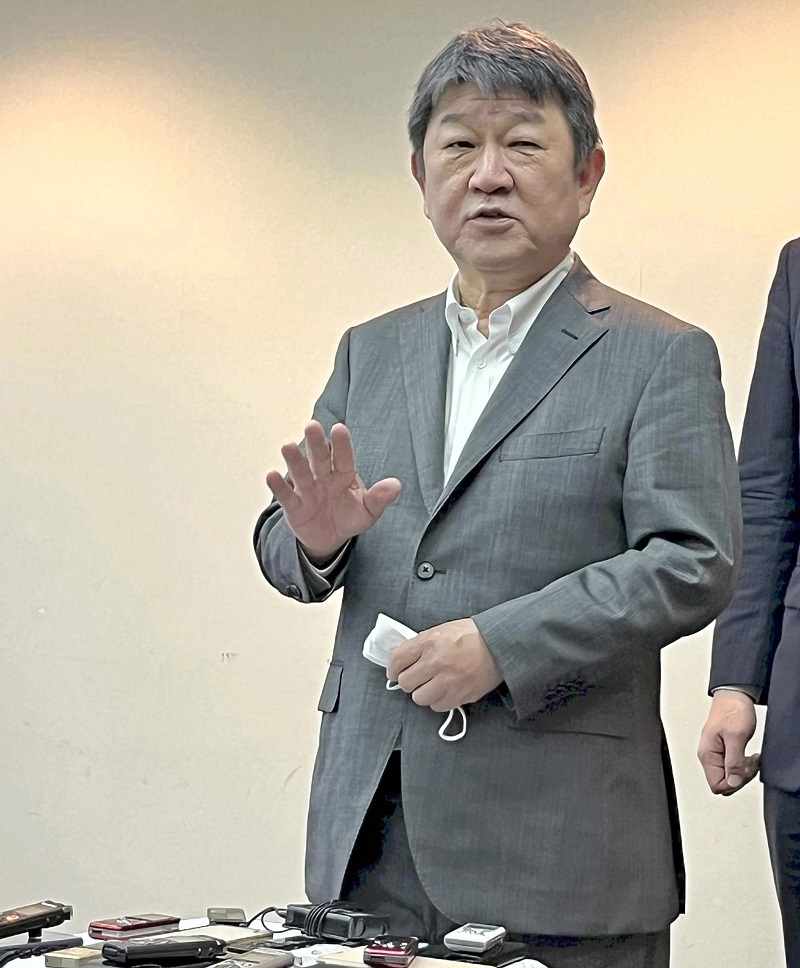 20:45 JST, May 5, 2022
Toshimitsu Motegi, secretary general of the Liberal Democratic Party, marked his first six months in the influential post on Wednesday. His term has been largely successful so far, but not everything has been smooth sailing.
Motegi has made his presence felt in the LDP, as he supports Prime Minister Fumio Kishida from the party side amid continually high public support for Kishida, who is also LDP president. However, Motegi's relations with Sanae Takaichi, the chair of the LDP's Policy Research Council, and with Komeito, the LDP's ruling coalition partner, have been awkward at times.
"The party's approval rating remains relatively high," Motegi said to reporters during a visit to Naha on Monday. "I'll keep working hard to ensure our policies continue to reflect the will of the people."
Motegi stays in close contact with Kishida and Taro Aso, the LDP's vice president, and holds discussions with them at party headquarters almost every week. They discuss how the LDP will deal with opposition parties, coordinate policies and manage election strategies.
Motegi is deeply trusted by Kishida; the prime minister has even described Motegi as the "most capable man in Nagatacho," the Tokyo district that is the seat of Japanese politics.
The decision by the opposition Democratic Party for the People to support the passage of the fiscal 2022 budget was reportedly the result of behind-the-scenes negotiations involving the party, Motegi and Aso. Motegi has frequently been front and center in moves to craft a framework enabling policy discussions among the LDP, Komeito and the DPFP.
He so far has a flawless record in elections deemed important by the Kishida administration. In April, an LDP candidate won the House of Councillors by-election to fill a vacant seat in Ishikawa Prefecture, and LDP-backed candidates have triumphed in four mayoral elections contested in Okinawa Prefecture, including the Nago race in January.
Motegi became head of what is now the LDP's Motegi faction in November. Since then, the faction has gained three members to boost its ranks to 54 lawmakers, making it the party's second-largest. Many observers believe Motegi is steadily laying the groundwork to eventually succeed Kishida as party leader.
However, Motegi has encountered a few potholes when working with other members of the LDP leadership lineup. Motegi's relationship with Takaichi briefly became frosty when Motegi took center stage on some policy issues, such as leading coordination with the DPFP to invoke a "trigger clause" that temporarily cuts gasoline taxes.
Since late March, Motegi has held a "tea party" with the LDP's top four executives — including Takaichi — every Wednesday at which they exchange opinions.
Motegi also has gone to great lengths to foster closer ties with Komeito, by setting up regular meetings with that party's secretary general and diet policy committee chairperson, for example. However, it would be incorrect to say these efforts have always gone smoothly, as discussions over cooperation in the upcoming upper house election and other issues have been rocky at times.
Komeito leader Natsuo Yamaguchi and Secretary General Keiichi Ishii both attended a Motegi faction party on April 26. This unusual situation raised some eyebrows within the LDP.
"I think Komeito might have been putting pressure on Mr. Motegi," a midranking LDP lawmaker told The Yomiuri Shimbun.