Youthful team proposes reforms for government district known for poor working conditions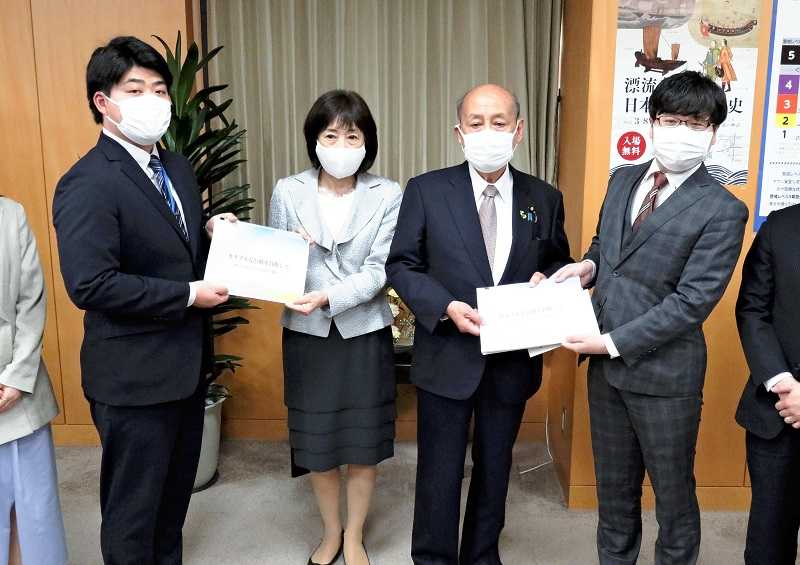 7:00 JST, May 3, 2022
A team of young bureaucrats has proposed a set of work-style reforms for the Kasumigaseki district, home to most of Japan's government offices, and known as "Black Kasumigaseki" for its long work hours.
The proposals encourage the district to change from "black" to "colorful" by accepting diverse work styles. Suggestions include reducing overtime through staff assignments and shift work, transferring personnel across ministries and agencies based on employees' wishes, and the expansion of temporary employee transfers to private companies.
The review team was formed last September and comprised eight bureaucrats in their 30s from the National Personnel Authority (NPA) and the Cabinet Bureau of Personnel Affairs. Their suggestions were based on inquiries made to private companies and former workers who quit their jobs at government offices.
On April 28, the team handed their proposals to Yuko Kawamoto, the NPA president, and Satoshi Ninoyu, chairperson of the National Public Safety Commission and minister in charge of civil service reform.
According to a survey conducted in fiscal 2021 by the Cabinet Bureau of Personnel Affairs, 13.5% of male national public service workers younger than 30 wanted to quit their job, as did 11.4% of female workers in the same age group.
The most common reason, cited by over 70% of respondents, was that they wanted a job at a workplace where they could better focus on developing themselves. Also, 40% of male respondents and 50% of female respondents said, "It is difficult to balance work and family life, due to long working hours."
Upon receiving the proposals, Kawamoto said, "There are plenty of hints [for work-style reforms]."