Kishida looks to strengthen cooperation with ASEAN leaders during overseas tour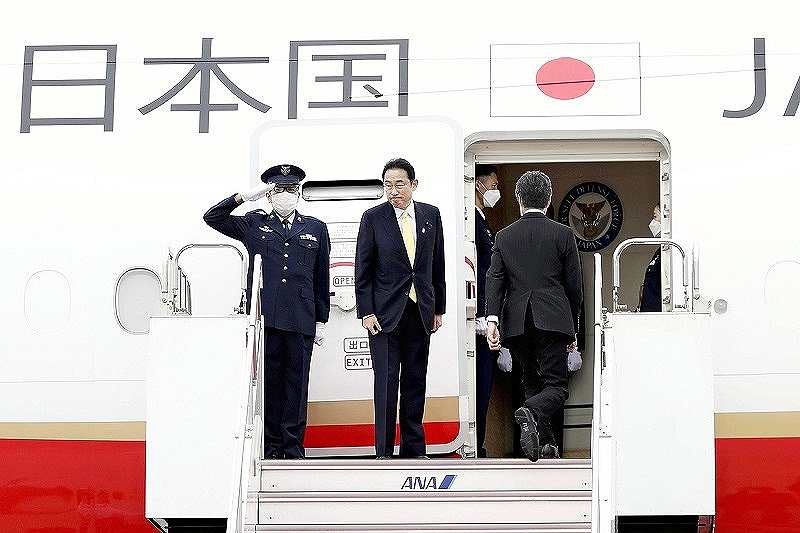 17:47 JST, April 30, 2022
JAKARTA — Prime Minister Fumio Kishida held talks with Indonesian President Joko Widodo on Friday, kicking off an overseas tour that will also include summit meetings in Vietnam and Thailand.
As the only Asian member in the Group of Seven nations, Japan hopes to serve as a bridge between the Association of Southeast Asian Nations (ASEAN) and the G7, which is united on sanctions against Russia following its invasion of Ukraine.
Kishida is expected to seek understanding from the Southeast Asian leaders regarding increased pressure on Russia.
"We are confronted with many challenges, including situations in Ukraine, in the East and South China seas, and North Korea," Kishida said in a meeting with Joko and other officials. "It is becoming increasingly important to maintain and strengthen the free and open international order, based on the rule of law."
Kishida stressed the importance of working with Indonesia, with which Japan shares common values such as democracy. The two leaders also exchanged views on the situation in Ukraine during one-on-one talks.
However, regarding diplomacy toward Russia over its aggression in Ukraine, differences exist between the G7 and ASEAN members, including Indonesia.
The United Nations General Assembly adopted a resolution condemning Russia's invasion of Ukraine and calling for the immediate withdrawal of its forces at an emergency session in March, with 141 of the 193 member states voting in favor of the resolution. Vietnam and Laos abstained.
On April 7, the General Assembly voted on a resolution to suspend Russia's membership in the U.N. Human Rights Council. Indonesia and Thailand abstained, while Vietnam voted against it.
Singapore is the only ASEAN member among the group of countries imposing sanctions against Russia.
In a joint press statement after the Japan-Indonesia summit talks Saturday, Kishida said, "We discussed such matters, bearing in mind our countries both voted in favor of the U.N. resolution [in March]."
'Most important nations'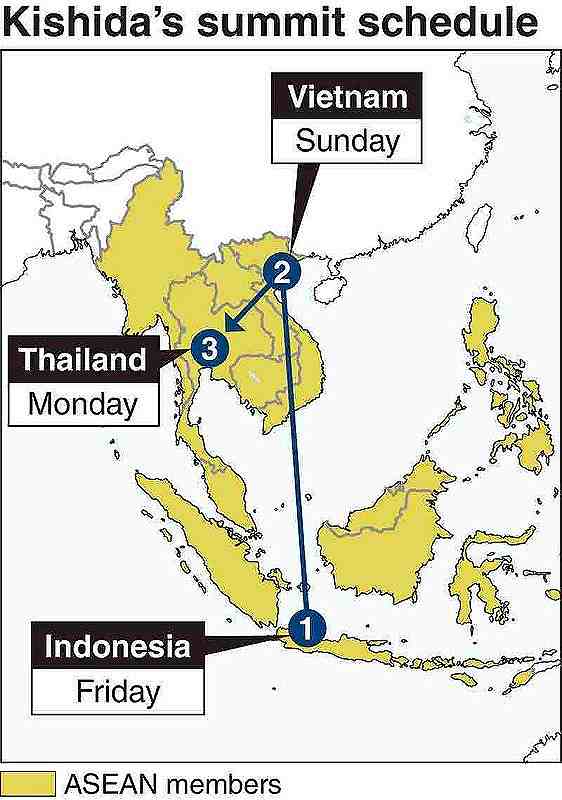 Japan has historically had close ties with Southeast Asia, and many Japanese companies have operations in the region.
An official close to Kishida described the three ASEAN members on the prime minister's itinerary as the "most important countries" in Southeast Asia in terms of population and economic scale. Japan has provided a large amount of official development assistance to the three nations.
Former Prime Minister Yoshihide Suga chose Indonesia and Vietnam for his first official overseas tour as prime minister in October 2020.
However, Japan's diplomacy toward Southeast Asian nations has become complicated regarding Ukraine.
Vietnam has pushed for security cooperation with Japan amid divisions with China over its militarization of the South China Sea, but Hanoi has drawn a line between itself and the G7 in diplomacy toward Russia.
Amid the turmoil in the international community, China appears to be attempting to undermine the ASEAN bloc.
Chinese foreign minister Wang Yi has invited counterparts of four ASEAN members, including Indonesia and Thailand, to China since late March, urging them not to adopt a pro-U.S. position on Russia's invasion of Ukraine.
Indonesia, the current chair of the Group of 20 major economies, is in a difficult position because Washington has called on Jakarta to exclude Russia from the G20 annual meeting.
"The international community cannot continue to have the same relationship with Russia as it has had in the past," Kishida said after his meeting with Joko. However, he did not clarify whether he had asked Joko not to invite Putin to the meeting.
ASEAN members have traditionally taken a stance of nonintervention regarding the internal affairs of other countries. A senior Foreign Ministry official said attempts to "impose values will not gain much understanding."
Kishida is expected to reveal detailed support measures in his talks with ASEAN leaders, while respecting the positions of his counterparts, in an effort to draw them as close as possible to the G7.
Add TheJapanNews to your Google News feed.