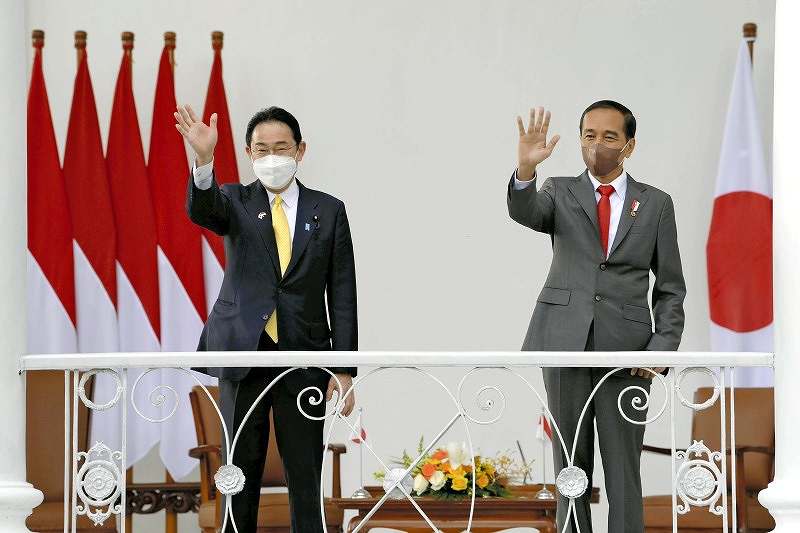 16:14 JST, April 30, 2022
JAKARTA — Prime Minister Fumio Kishida and Indonesian President Joko Widodo pledged to cooperate in efforts to stop Russia's aggression in Ukraine during their meeting at the presidential palace in Bogor near Jakarta on Friday.
In a joint press statement following the leaders' first in-person summit, Kishida strongly condemned Russia's invasion of Ukraine, saying it is a clear violation of international law that has shaken the foundations of the international order.
Joko called for an end to the war, and said that the two leaders had agreed to cooperate to create a situation in which negotiations and a peaceful solution could be achieved.
Kishida and Joko reaffirmed that violations of sovereignty or territory and unilateral changes of the status quo by force are not acceptable.
Kishida expressed strong opposition to attempts to unilaterally change the status quo and economic coercion, regarding the East and South China seas, and affirmed cooperation for the realization of a free and open Indo-Pacific region.
The prime minister also expressed his intention to launch a study on the provision of patrol vessels to Indonesia, with an eye on China's efforts to expand its interests in the waters surrounding Indonesia.
Regarding import restrictions on Japanese food products that Indonesia implemented following the 2011 nuclear accident at a power plant in Fukushima, Kishida said Joko had made positive statements on lifting the restrictions.
Kishida left Japan Friday for a trip around Southeast Asia and Europe. After Indonesia, he is scheduled to visit Vietnam, Thailand, Italy, and the United Kingdom.
According to a tweet posted Friday, Joko asked Russian President Vladimir Putin in a phone call to stop the war in Ukraine and negotiate peace. In a separate statement, Joko also confirmed that Putin is scheduled to attend the G20 summit scheduled for November.
Add TheJapanNews to your Google News feed.