Kishida, Scholz confirm resolute stance against Russia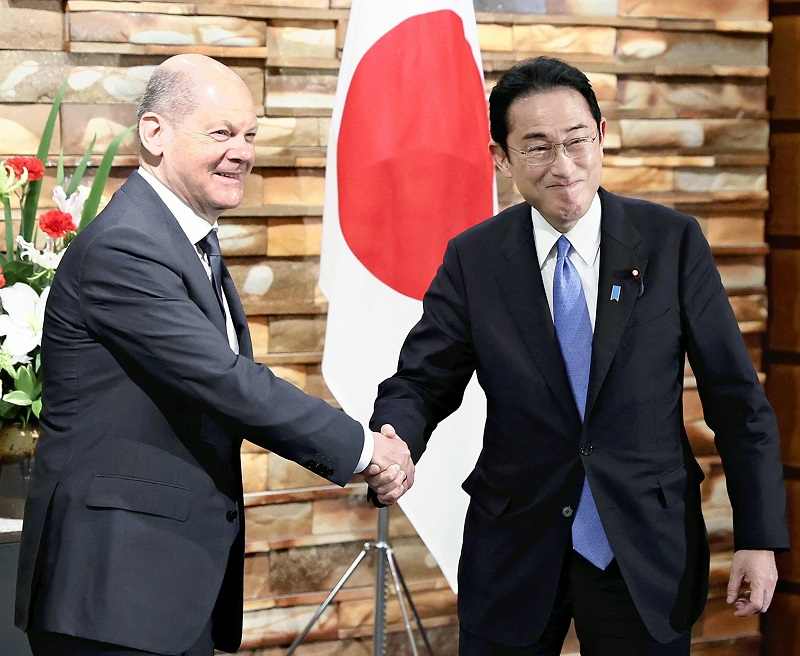 10:35 JST, April 29, 2022
TOKYO (Jiji Press) — Japanese Prime Minister Fumio Kishida and German Chancellor Olaf Scholz on Thursday agreed on the importance of the international community taking a resolute stance against Russia over its invasion of Ukraine.
At their meeting at the prime minister's office, Kishida and Scholz affirmed close cooperation to realize a free and open Indo-Pacific region, apparently with China's increasingly hegemonic behavior in the East and South China seas in mind.
The two leaders also agreed that their countries will hold the second two-plus-two security meeting of their foreign and defense ministers at an early date.
"Japan will implement powerful sanctions against Russia and bolster support measures for Ukraine," Kishida told Scholz.
"The security of the Indo-Pacific region cannot be separated from European security," Kishida said. "Any attempt to unilaterally change the status quo by force is absolutely unacceptable anywhere."
Scholz said that sanctions against Russia are a serious blow to the country.
The two leaders agreed to set up an intergovernmental consultative team including themselves and cabinet members and hold its first meeting next year.
The two also confirmed that a German government plane will transport daily necessities, such as diapers and menstrual sanitary products, that Japanese people donated for Ukrainian evacuees.
In a joint press conference after their talks, Kishida stressed that Japan will work to terminate its imports of Russian coal as soon as possible through public-private cooperation.
The two confirmed their strong disapproval of China's attempts to unilaterally change the status quo in the East and South China seas, Kishida said.
Kishida also said that he and Scholz shared their grave concern over the human rights situations in Hong Kong and Xinjiang in China.
To Scholz, Japan is the first Asian country he has visited since he took office in December last year.
Scholz's visit is partly aimed at making sure that his country, which holds this year's presidency of the Group of Seven major powers, is on the same page as Japan, next year's president, ahead of a G-7 summit in June this year.
After receiving a courtesy call from officials from the Japanese business community, the German leader attended a dinner hosted by Kishida at his official residence. In the session, they confirmed cooperation in dealing with North Korea.
Kishida and Scholz talked over the telephone twice before meeting in person.
Also on Thursday, Scholz gave a lecture in Tokyo, saying that Germany will cooperate with Japan over economic security and demonstrate their countries' leadership together.
He apparently aims to work with Japan to break their dependence on Russia for energy sources.
In diversifying supply chains and energy procurement channels, it is necessary to create a global framework backed by stiff rules and transparency, Scholz said.