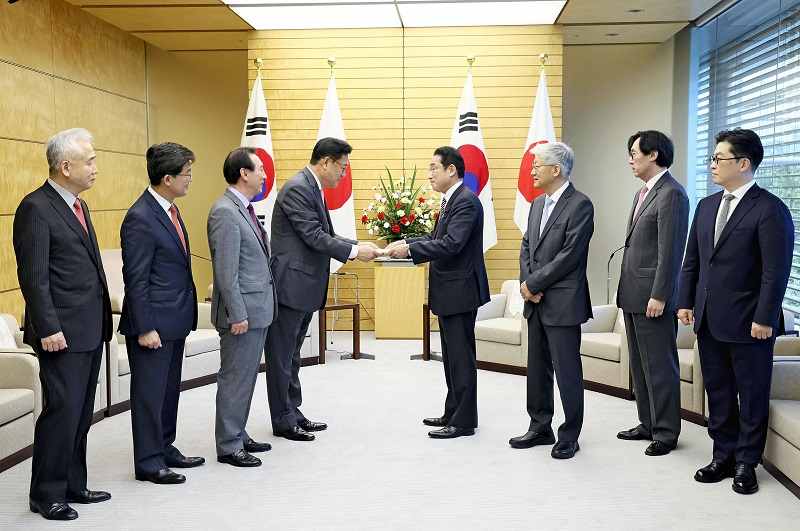 11:15 JST, April 27, 2022
TOKYO (Jiji Press) — Prime Minister Fumio Kishida told a South Korean delegation Tuesday that pending issues between Japan and South Korea need to be solved.
He made the remark during a meeting in Tokyo with the delegation dispatched by South Korean President-elect Yoon Suk-yeol, as he referred to wartime labor and other bilateral issues.
"Strategic collaborations between Japan and South Korea and those among Japan, the United States and South Korea are now more necessary than ever," Kishida told the meeting. "We have no time to lose to improve Japan-South Korea ties."
Kishida and members of the delegation, headed by Chung Jin-suk, deputy speaker of the South Korean National Assembly, held talks at the Prime Minister's Office for about 25 minutes.
The delegation handed a personal letter from Yoon to Kishida and conveyed how South Korea values its relationship with Japan and is eager to work together with Tokyo to improve bilateral relations.
Later on the day, the delegation met with Chief Cabinet Secretary Hirokazu Matsuno. The two sides exchanged views over North Korea's nuclear and missile development programs and agreed to cooperate closely on the matter.
"Based on friendly, cooperative relations that have been built between Japan and South Korea since the normalization of our diplomatic ties, our countries need to develop the connections and the Japanese government will communicate closely with the incoming president and his administration," Matsuno told a news conference Tuesday.
Kishida is calling for the South Korean side to take positive actions over the issues of wartime labor and so-called comfort women. He is expected to examine how seriously the new administration will make efforts to improve the soured bilateral ties.
Add TheJapanNews to your Google News feed.