LDP concedes to, frustrated by Komeito's insistence on extra budget ahead of elections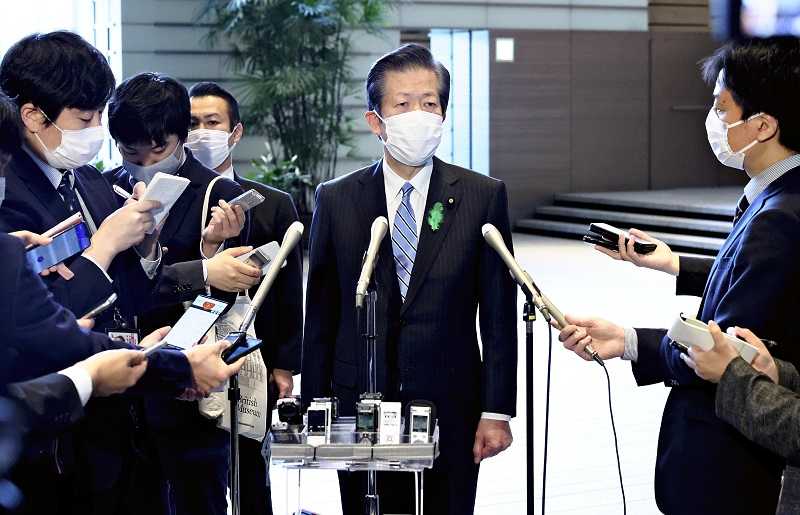 18:06 JST, April 22, 2022
Dissatisfaction is rising within the Liberal Democratic Party over what some LDP members say is ruling coalition partner Komeito's self-centered approach to the budget.
The ruling coalition agreed to compile a supplementary budget for fiscal 2022 to fund emergency economic stimulus measures Thursday, with the LDP conceding to Komeito's wishes, after the junior partner had repeatedly called for the compilation during the current Diet session.
Some LDP members see Komeito as wanting to make an appeal to voters ahead of the House of Councillors elections this summer.
"We have come to the conclusion that we need to compile a supplementary budget with an eye on June and beyond," LDP Secretary General Toshimitsu Motegi told reporters after meeting Komeito Secretary General Keiichi Ishii.
"I am very glad that we were able to finally come to a mutually satisfactory conclusion," Ishii said.
The need for emergency economic measures to address surging prices including energy costs was a thought shared by the government, LDP executives and Komeito, but they had been divided on the scale of the measures and the funding.
The LDP leadership thought that the funds for the emergency economic measures should be allotted from the ¥5.5 trillion reserve fund of the fiscal 2022 budget and that large-scale economic measures be implemented after the upper house elections.
Komeito leader Natsuo Yamaguchi, however, maintained a hard-line stance since late March, repeatedly calling for the compilation of a supplementary budget during the current Diet session.
Prior to the ruling parties' agreement, Motegi showed Ishii the details of their agreement Wednesday, which included a supplementary budget plan, saying the LDP would not make any further concessions, sources said.
"Komeito often makes assertions without prior discussion and goes out of its way to get what it wants," a senior LDP official said. "The dissatisfaction within the party is growing very strong."
The government is expected to submit a draft of the supplementary budget for fiscal 2022 to the Diet in late May.
At the Budget Committee meetings of both the House of Representatives and the House of Councillors to be held ahead of the upper house elections, Prime Minister Fumio Kishida is likely to face criticism from opposition parties.
Regarding fiscal spending on measures to deal with soaring oil and other prices, however, some believe that deliberation on a supplementary budget in the Diet will be more transparent than spending from the reserve fund.
The combined size of the emergency economic stimulus measures and the newly proposed supplementary budget is estimated to be around ¥4 trillion, which is less than the reserve fund for fiscal 2022. Some within the government and LDP have thus questioned the necessity of compiling a supplementary budget.
"It is just a change of financial resources from the reserve fund to the supplementary budget," a senior Finance Ministry official said. "Nothing of any real significance is being done."
Add TheJapanNews to your Google News feed.