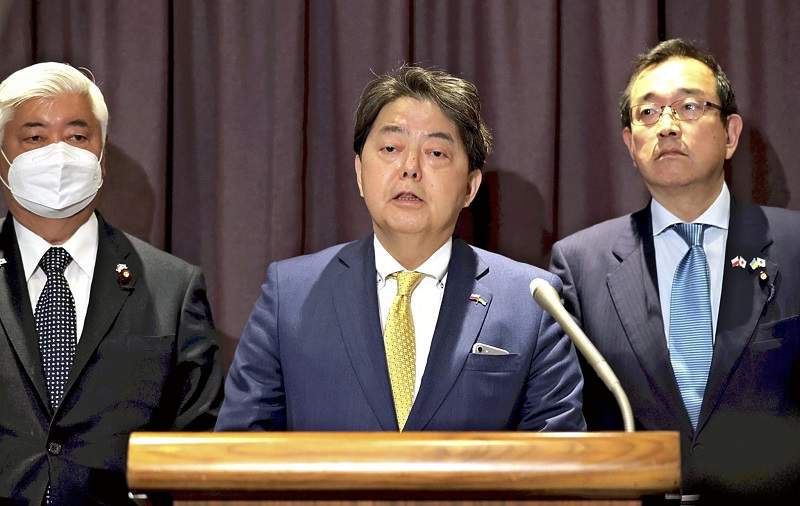 16:51 JST, April 6, 2022
While Western nations are proposing further sanctions against Russia following the discovery of dead civilians on the outskirts of Kyiv, the Japanese government is struggling to respond.
Japan basically intends to walk in step with the Group of Seven industrialized nations as it has done until now, but hopes to sidestep sanctions on the energy sector, which would have a large impact on the Japanese economy.
At a press conference Tuesday, Chief Cabinet Secretary Hirokazu Matsuno said, "The killing of civilians is a violation of international humanitarian law and is absolutely unacceptable."
Regarding sanctions, Matsuno said, "We will respond appropriately in coordination with the international community, including the G7."
Since Russia's invasion of Ukraine, Japan, in cooperation with the G7 and other entities, has imposed financial sanctions that have involved freezing the assets of 101 individuals, including Russian President Vladimir Putin, and 19 organizations, including seven major Russian financial institutions.
On the trade front, Japan is in the process of amending a system to revoke Russia's "most favored nation" status.
Additional sanctions imposed by other nations will be focused on the energy sector.
The United States and Britain, nations with high energy self-sufficiency, have decided to embargo Russian crude oil and other products, while Germany and other countries highly dependent on Russia have avoided such sanctions.
Japan, which depends on Russia for 9% of its natural gas and 4% of its crude oil, has announced it will not withdraw from resource development projects in the Russian Far East island of Sakhalin.
A source close to Prime Minister Fumio Kishida said, "An embargo wouldn't be a good idea as China would seize the interests."
However, it is suspected that the recently discovered civilian killings were war crimes, and there is growing recognition in the international community that tougher sanctions on Russia are needed.
If countries such as Germany and France take steps to impose sanctions on the energy sector, pressure on Japan is expected to increase.
Tokyo is considering expanding existing financial sanctions and adding Russia's largest bank Sberbank to the asset freeze list. A proposal for an embargo on agricultural products has also been floated.
A Foreign Ministry official said: "Each country is mulling sanctions. At the moment, we cannot foresee what the G7 will come up with."
Foreign Minister Yoshimasa Hayashi returned to Japan from Poland with Ukrainian refugees.
Hayashi is scheduled to attend meetings of the foreign ministers of G7 and North Atlantic Treaty Organization members in Brussels on Thursday, during which he is expected to assess the moves of other countries regarding sanctions.
Lawmakers decry 'war crimes'
Ruling and opposition Diet members voiced condemnation on Tuesday, following the discovery of many civilians in Ukraine.
Liberal Democratic Party Secretary General Toshimitsu Motegi stressed that killing civilians is against international humanitarian law at a press conference. "Depending on the definition, they could be called war criminals," Motegi said, with Russian President Vladimir Putin and others in mind.
Meanwhile, LDP Policy Research Council Chairperson Sanae Takaichi said: "If we allow this to go unchecked, a 'second Russia' will emerge. We must respond firmly." Natsuo Yamaguchi, the leader of LDP coalition partner Komeito, said, "It's something that should be called a war crime."
Chinami Nishimura, secretary general of the opposition Constitutional Democratic Party of Japan, said, "We must clarify Putin and Russia's responsibility under international law," and Democratic Party for the People leader Yuichiro Tamaki said, "This is a situation that can be described as genocide. Russia and Putin must be held accountable."
Add TheJapanNews to your Google News feed.