Kishida keeps approval rating over 50% through 6 months in office, Yomiuri poll says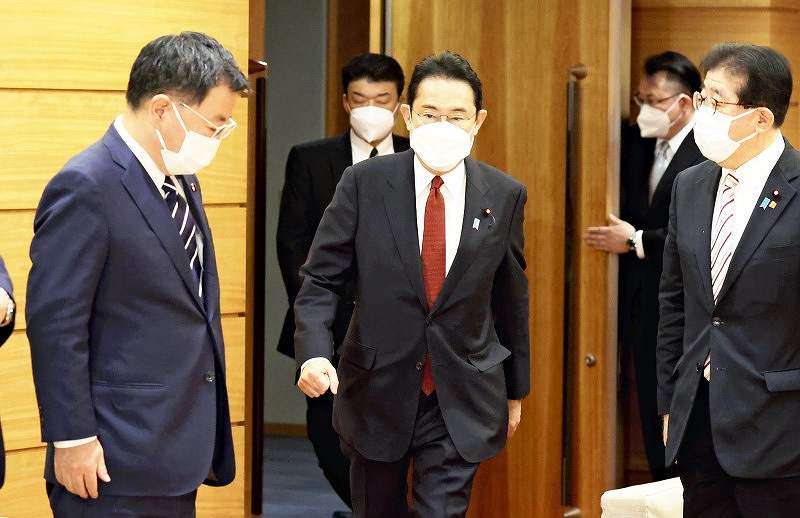 18:20 JST, April 4, 2022
Prime Minister Fumio Kishida's Cabinet achieved a 59% approval rating in a nationwide poll conducted by The Yomiuri Shimbun from Friday through Sunday.
Monday marked six months since Kishida became prime minister and his Cabinet has steadily had an approval rating above 50%.
Since this type of Yomiuri Shimbun poll began in January 1979 during Masayoshi Ohira's time as prime minister, only three other administrations had achieved more than 50% rating: Morihiro Hosokawa's Cabinet inaugurated in August 1993, Junichiro Koizumi's Cabinet inaugurated in April 2001 and the second Cabinet of Shinzo Abe inaugurated in December 2012.
The Kishida Cabinet started with a 56% approval rating in October last year. Even during the sixth wave of the novel coronavirus pandemic when infections increased sharply, it has been able to maintain an approval rating in the upper 50% range.
In the latest poll, the approval rating remained almost unchanged from the 57% in the previous poll, which was conducted March 4-6. The disapproval rating was 29%, almost unchanged from the 28% in the previous poll.
Approval of the Kishida government's response to the coronavirus pandemic has exceeded disapproval in all eight polls since he became prime minister, with the latest approval figure at 55% of respondents.
Regarding Russia's invasion of Ukraine, the percentage of respondents who agree that Kishida is handling the situation appropriately rose slightly to 58% from the 54% in the previous poll.
A look at the reasons for support, however, reveals that the situation might be far from stable. The most common reason for supporting Kishida was that there is no one else, at 42%, up 7 percentage points from the time he became prime minister. Combined with the 18% who chose to support him because it is a Liberal Democratic Party-centered administration, about 60% of respondents seemed to be reluctantly supporting Kishida.
Regarding defense
Asked about the statement that Japan should strengthen its defense capabilities, 64% of respondents agreed with it, while 27% disagreed. Respondents likely were influenced by Russia's invasion of Ukraine and North Korea's launches of intercontinental ballistic missiles.
A similar percentage of respondents, 69%, agreed that Japan should strengthen sanctions against Russia if countries such as the United States or Britain do so, while 21% disagreed.
A total of 86% of respondents, 48% of whom answered "very much" and 38% of whom answered "somewhat," felt that North Korea's nuclear weapons and missiles pose a threat.
Public opinion, however, was evenly split at 46% on the idea of Japan possessing strike capability against enemy bases to destroy missile launch sites and other such facilities before missiles are used to attack Japan.
Add TheJapanNews to your Google News feed.