Lawmakers stress need for humanitarian aid following Zelenskyy speech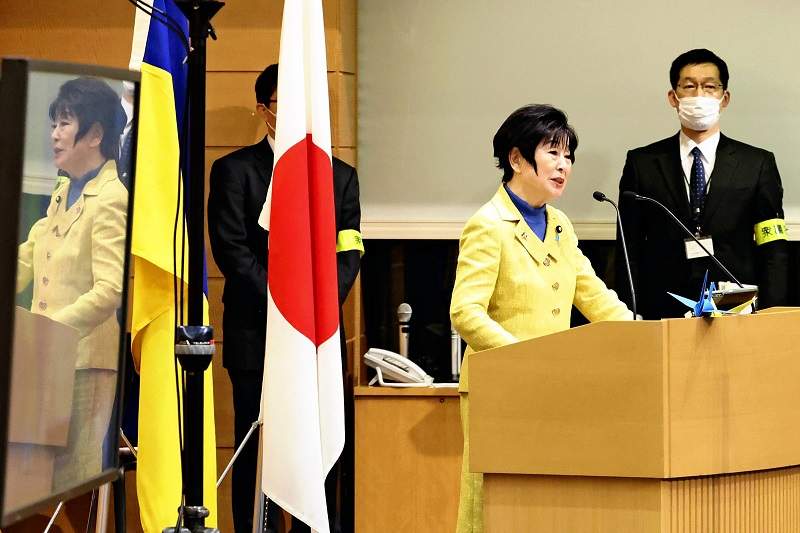 16:35 JST, March 24, 2022
Lawmakers of both ruling and opposition parties stressed the need for humanitarian assistance to Ukraine on Wednesday, following Ukrainian President Volodymyr Zelenskyy's online address to the Diet.
More than 500 lawmakers, including Prime Minister Fumio Kishida, listened to Zelenskyy's livestreamed speech in the international conference room and the multipurpose hall in a Diet members' office building of the House of Representatives. Simultaneous interpretation into Japanese was provided by staff of the Ukrainian Embassy in Japan.
House of Councillors Speaker Akiko Santo dressed in blue and yellow in honor of the Ukrainian national flag. Santo condemned the Russian invasion and expressed solidarity with Ukraine after the president's address, saying, "Our country and Ukraine have always been of one mind."
Ruling and opposition party representatives also showed their support.
Komeito leader Natsuo Yamaguchi told reporters, "I was struck by [Zelenskyy's] poignant appeal amid the invasion. We need to extend our hand."
Japan Communist Party leader Kazuo Shii said the president's address "conveyed his strong determination to defend the independence of his country, and his deep anger regarding the invasion and war crimes."
Zelenskyy asked in his speech for Japan to continue implementing sanctions against Russia, and many lawmakers called for the measures to be strengthened.
"I think there may be a way to further broaden the scope of sanctions," said Sanae Takaichi, chair of the Liberal Democratic Party's Policy Research Council. Democratic Party For the People leader Yuichiro Tamaki referred to restrictions on trade with Russia at a party meeting, saying, "[We must] consider further intensifying pressure and sanctions."
The government has imposed restrictions on semiconductor exports and frozen the assets of Russian government officials, including Russian President Vladimir Putin, in cooperation with the United States and other nations. It has also pledged an emergency humanitarian aid package worth $100 million (about ¥12 billion) primarily for Ukraine.
Foreign Minister Yoshimasa Hayashi listened to the speech in the front row of the main venue. He told reporters, "We will work closely with the Group of Seven nations and other countries to respond firmly to the situation, including implementing sanctions and taking in displaced people."
Add TheJapanNews to your Google News feed.