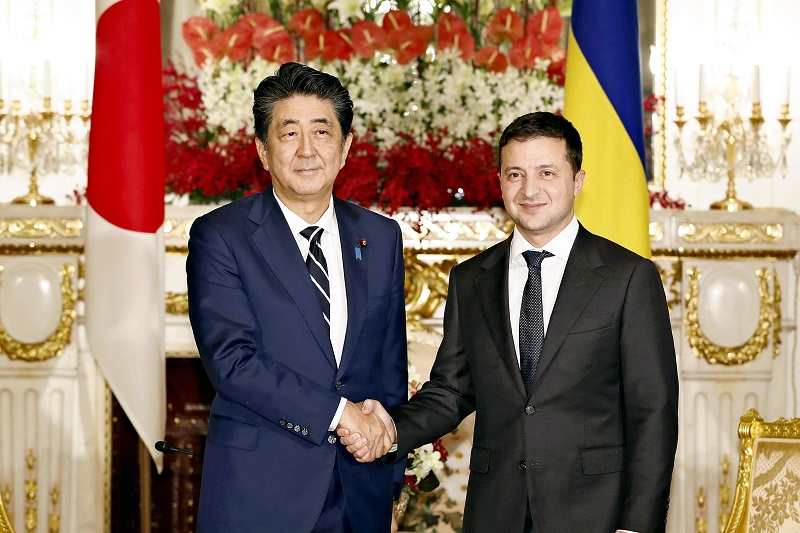 14:14 JST, March 24, 2022
Ukrainian President Volodymyr Zelenskyy stated Wednesday in his speech to the Diet, "We have similar values with you despite the huge distance between our countries," referring to the good relationship Japan and Ukraine have enjoyed since establishing diplomatic relations in January 1992.
In May 2012, the two governments signed an agreement to share information including that on health problems caused by radioactive substances. The agreement was made in response to the 2011 nuclear accident in Fukushima Prefecture to take advantage of knowledge gained from the 1986 accident at the Chernobyl nuclear power plant in northern Ukraine.
When Ukraine faced an economic crisis in 2014, the Japanese government embarked on a generous economic support program, announcing up to ¥150 billion in assistance and providing aid of ¥10 billion in loans.
To deter China
Japan's emphasis on Ukraine has been partly aimed at deterring China because the neighboring country has been strengthening its influence in the region under China's Belt and Road Initiative to create a huge economic zone.
China has positioned Ukraine as an important hub for the initiative, the nexus between Asia and Europe, and has invested a huge amount of money in the country. The train service connecting Wuhan, a major city in central China, with the Ukrainian capital of Kyiv, began running in June 2020.
Ukraine and China have also engaged in deep military cooperation. The Chinese Navy's first aircraft carrier, the Liaoning, commissioned in 2012, was constructed by converting a secondhand hull purchased from Ukraine.
Over Russia's invasion of Crimea in March 2014, Japan took a more cautious position than Western countries in sanctioning Russia in order to make progress on the northern territories issue. However, Japan did not lack consideration for Ukraine. In June 2015, then Prime Minister Shinzo Abe visited Ukraine and met with then Ukrainian President Petro Poroshenko to seek understanding of Japan's position. Abe became the first Japanese prime minister to visit the country.
Zelenskyy visited Japan for the first time in October 2019 to attend the ceremony declaring the Emperor's accession to the throne to Japan and the world. During his meeting with Abe, he expressed gratitude for Japan's support for infrastructure development, including sewerage systems.
Add TheJapanNews to your Google News feed.