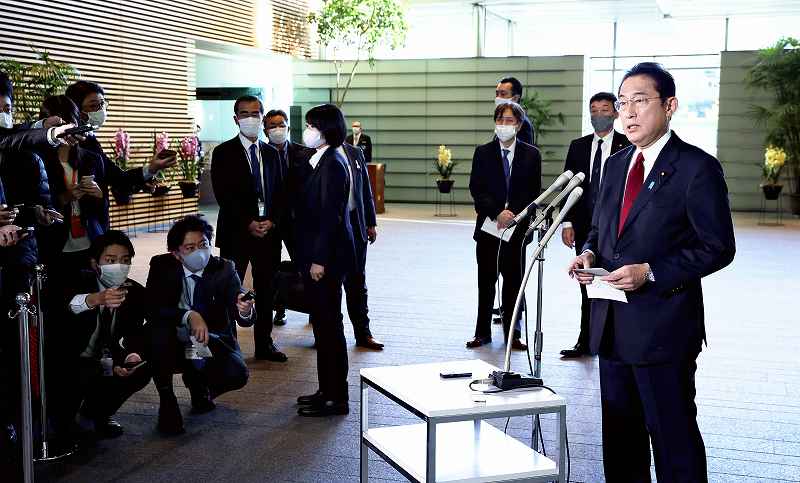 15:38 JST, March 19, 2022
Since Prime Minister Fumio Kishida took office on Oct. 4 last year, he has informally spoken to reporters 100 times, nearly double the frequency of his predecessor. This effort is bolstering his reputation for trying to actively disseminate information to the people.
On Thursday night, his 165th day in office, Kishida made his 100th such appearance, at the entrance of his official residence, where he explained the contents of a phone conversation with Saudi Crown Prince Mohammed bin Salman.
Kishida is drawing on a lesson from a particular failing of Prime Minister Yoshihide Suga's administration, which was criticized for not fully explaining the government's policies to the public.
An aide to Kishida said the prime minister "basically responds to all requests" from reporters for such interactions. According to the aide, Kishida will continue to answer questions for as long as reporters keep fielding them, and it's not unusual for him to give two or three impromptu interviews a day.
Regarding official press conferences, however, there are no significant differences. Kishida has held 10 of them, compared to eight for Suga, in their respective administrations' first 165 days.
Suga's tally of less structured interactions with the press in the same period was 53, and media reports often gave the impression that he wanted them to be brief, rather than providing full explanations.
Nevertheless, some members of the ruling Liberal Democratic Party, to which Kishida belongs, have been critical of him.
A former cabinet minister said: "There are a lot of such interactions, but the contents are mostly about policy details. It is questionable whether the prime minister has been successful in expressing overarching messages based on his personal beliefs."
Add TheJapanNews to your Google News feed.