Zelenskyy to address Diet on Wednesday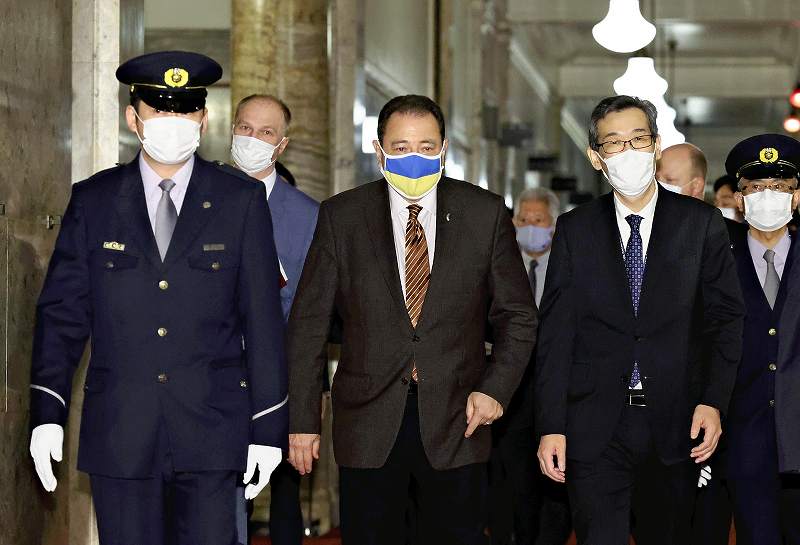 16:07 JST, March 19, 2022
Ukrainian President Volodymyr Zelenskyy is scheduled to deliver an online address to the Diet on Wednesday after an agreement was reached among the ruling and opposition parties.
Initially, the parties and the secretariats of both chambers were hesitant because there is no precedent for screening a foreign leader's online address in the Diet. However, an agreement was reached to hold the speech as a sign of solidarity with Ukraine.
On March 15, the Embassy of Ukraine in Japan inquired about the possibility of Zelenskyy delivering a speech to the Diet through the Japanese Foreign Ministry.
Sergiy Korsunsky, Ambassador of Ukraine to Japan, held talks separately with Hiroyuki Hosoda, speaker of the House of Representatives, and with Akiko Santo, president of the House of Councillors, making an official request on March 17.
With the Russian invasion of Ukraine escalating in the country, Zelenskyy is trying to gather support from the international community by making speeches before the national assemblies of democratic countries.
The ruling and opposition parties began negotiations immediately after the initial approach was made by the embassy, but a swift response was not possible because of red tape.
The first challenge was the method of implementation because the screening of an online address or pre-recorded video of a foreign leader has never happened in the Diet.
Speeches by foreign heads of state or government are usually held in the Diet chamber where plenary sessions are convened.
As there are no displays in the chamber, a suggestion was put forward to install equipment for the address, but a senior Liberal Democratic Party official nixed the proposal, claiming the only available space was near seating reserved for the Emperor, and it would be inappropriate to install equipment there.
Screening the address in a committee room in the members' office building of the lower house, across the street from the Diet Building, is another proposal. However, the room is not big enough to accommodate all members of both houses so only parliamentary group leaders would be able to attend.
The timing was another concern.
Party officials said it would be difficult to hold the meeting during the day because of the seven-hour time difference between Ukraine and Japan, while others said it would be difficult to confirm a date as budget deliberations are in their final stages.
Seishiro Eto, chairperson of the LDP Research Commission on Foreign Affairs, said, "If officialdom and red tape were to prevent the speech from happening, the whole world would be disappointed."
The national parliaments of other democracies, including Britain and the United States, have responded positively and swiftly to approaches by Ukraine, to show their solidarity with the country.
The British parliament installed screens in the lower house chamber, and its members listened to the address with simultaneous interpretation.
The United States screened the speech in an auditorium.