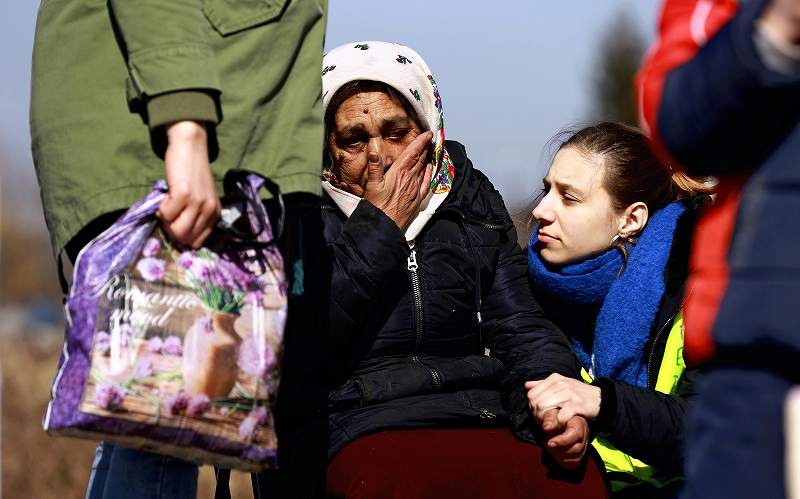 16:31 JST, March 19, 2022
The government is set to simplify visa application procedures for Ukrainians fleeing the Russian invasion of their country.
The decision came Friday during the first meeting of the liaison and coordination council to discuss support measures for Ukrainian refugees in Japan, and is aimed at helping displaced Ukrainians enter Japan more easily.
"I want you to work hard to ensure people seeking refuge in Japan under difficult circumstances will be able to receive the support they need," said council chair Chief Cabinet Secretary Hirokazu Matsuno during the meeting at the Prime Minister's Office, attended by Foreign Minister Yoshimasa Hayashi and Justice Minister Yoshihisa Furukawa, among others.
Based on the decision, Japan will not require Ukrainians who apply for a 90-day short-term visa to submit documents proving they already have relatives living here. Furthermore, proxies will be able to apply for visas on behalf of multiple people simultaneously. Japan requires proof of a negative test for COVID-19 to enter the country, but Ukrainians will now be able to enter the country without such documents.
The government will continue to assist refugees after they have entered Japan, such as by providing temporary accommodation and meals, as required. It also will provide them with information on municipalities and companies willing to offer job-seeking support. Japanese language classes and employment training will also be offered to people hoping to stay in the country for a long period of time.
A working group will be established to discuss other support measures, which will be taken up by the relevant ministries and agencies.
As of Wednesday, 73 Ukrainians had entered Japan since March 2, when the government announced its refugee-acceptance policy. All 73 either have relatives or acquaintances living in Japan. The government has now taken steps to handle cases in which displaced Ukrainian arrivals have no connection to Japan.
The government's information on visa application procedures for Ukrainian refugees has so far been limited to the website of the Japanese Embassy in Poland.
This has prompted some ruling Liberal Democratic Party lawmakers and others to call on the government to be more active in relaying information to displaced Ukrainians in Poland and other areas about Japan's policy, while establishing relevant systems to deal with their arrival.
Add TheJapanNews to your Google News feed.