Motegi visits Okinawa as LDP secretary general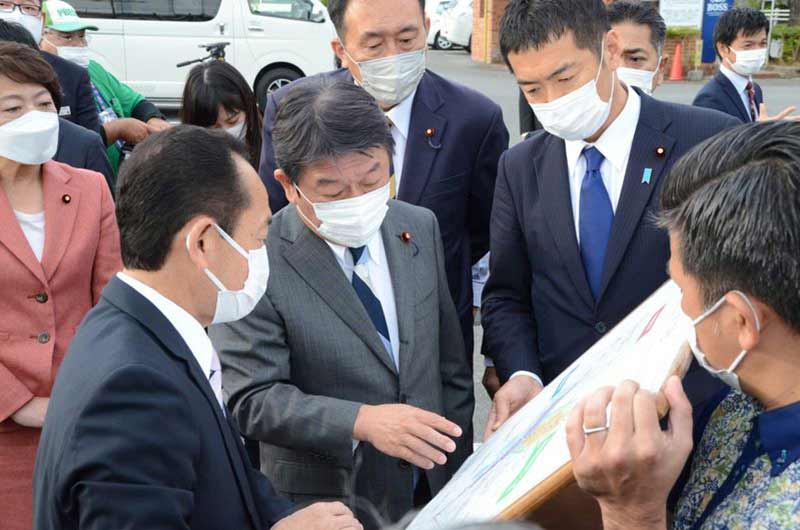 November 28, 2021
NAGO, Okinawa (Jiji Press) — Toshimitsu Motegi, Secretary General of the Liberal Democratic Party, visited Okinawa on Saturday for the first time since he assumed the post on Nov. 4.
The trip by Motegi, who previously served as chairman of the LDP's Election Strategy Committee, comes ahead of a series of important elections next year in Okinawa where the government is going ahead with a controversial plan to relocate a U.S. military base.
The elections will start with a mayoral race in January in Nago, the site of the relocation for the U.S. Marine Corps' Futenma air base in Ginowan.
The Nago race will be followed by the triennial election for the House of Councillors in summer and the gubernatorial election in September.
Motegi met with officials from the LDP's prefectural chapter in Naha. Later in Nago, he was briefed by Mayor Taketoyo Toguchi about a local redevelopment plan.
Speaking to reporters in Nago, Motegi said 2022 is "a year of elections starting with the Nago mayoral poll in January."
"We're hoping to get off to a good start in January leading into the upper house and gubernatorial elections."
Motegi said that he has instructed the prefectural chapter to decide the candidates for the upper house and gubernatorial polls at an early date.
In the previous Nago race in 2018, Toguchi, backed by the LDP and coalition partner Komeito, beat the then incumbent who sought to block the Futenma base relocation plan.
Toguchi has already announced his reelection bid. Yohei Kishimoto, a Nago city assembly member who opposes the base relocation, plans to run in the mayoral race.