Japan to propose partial transfer of credits at COP26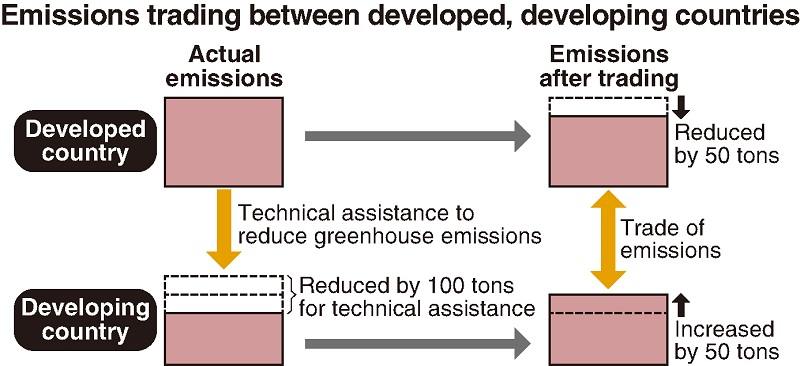 18:55 JST, October 31, 2021
GLASGOW — The Japanese government plans to propose new international trading rules for greenhouse gas reductions at the COP26 U.N. climate change conference in Glasgow, The Yomiuri Shimbun has learned.
Japan's proposal includes approving the transfer of some past credits, a measure that has been sought by emerging economies. Japan hopes to lead discussions on this matter, mediating between developed and developing countries.
Emissions trading means that if developed countries provide technical or financial assistance to developing countries to reduce greenhouse gas emissions, that assistance is viewed as a reduction of emissions by the developed countries. This idea was included in the Paris Agreement framework adopted at COP21 in 2015, but specific rules have yet to be agreed upon.
This is one of the key items on the agenda at the Glasgow conference.
The biggest difference of opinion among countries is whether to allow the transfer of credits issued under the framework of the Kyoto Protocol, adopted in 1997, for future use under the Paris Agreement. Emerging economies such as Brazil and India have Kyoto Protocol credits and are concerned that if they are not transferred, they will lose funds that they would otherwise get in the market.
However, the United States and the European Union oppose such transfers, saying there would be no progress in reducing actual emissions.
According to a government source, Japan will propose allowing transfers from a specific period. If the applicable period is 2013 or later, a maximum of about 300 million tons of carbon dioxide credits could be transferred. If credits after 2016 are eligible, the amount would be about 50 million tons.
Some estimates predict that if new emission trading rules are agreed upon, an annual reduction of 9 billion tons, or 30% of all global emissions, can be achieved by 2030 due to the revitalization of markets related to decarbonization.
Japan plans to cite such estimates when it argues that it would be more advantageous to accept its proposal, which allows the transfer of some credits.
Japan already has its own bilateral credit system, called the Joint Crediting Mechanism, based on bilateral agreements with 17 partner countries. This system is included in the government's action plan to reduce greenhouse gas emissions by 46% from the fiscal 2013 level by fiscal 2030.
The Japanese government aims to reach an accord about new trading rules under the Paris Agreement, as this will help Japan achieve its own reduction targets.