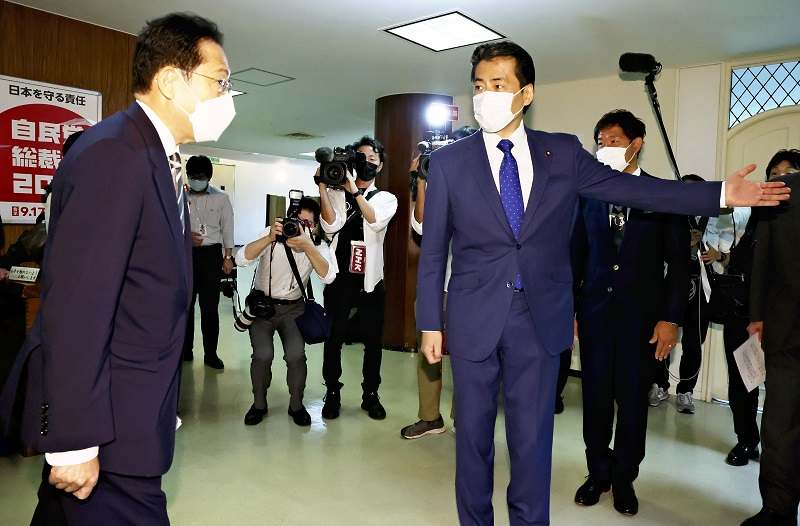 15:09 JST, September 22, 2021
There is a room called the Liberty Club on the eighth floor of the Liberal Democratic Party's headquarters building. About 45 years ago, then Prime Minister Takeo Fukuda, in an effort to eliminate factionalism, converted the conference room into a space for casual gatherings of party lawmakers.
On Tuesday afternoon, the four candidates running in the LDP presidential election appeared at the Liberty Club and presented their personal opinions about party reforms. Each candidate spoke for 35 minutes. The meeting was organized by Tofu Isshin no Kai, a suprafactional group of junior LDP lawmakers aiming to drastically change the party's culture.
Tatsuo Fukuda, a House of Representatives member, is the group's representative. He is a grandson of Takeo Fukuda, and he belongs to a party faction led by Hiroyuki Hosoda.
About 90 LDP lawmakers who have been elected to the lower house one to three times participate in the group.
The group was established on Sept. 10 with the aim of having the party presidential election become less dominated by factions and making it more open to the public.
Members of the group expressed their discontent directly to the candidates. One said, "The public's trust in the LDP has been shaken," and another said, "It's hard to reflect the party's opinions in the compilation of policies."
At one point, Taro Kono, minister in charge of administrative and regulatory reforms, gave a mea culpa, saying, "My explanations were insufficient over measures to cope with the novel coronavirus."
It was very rare for candidates in a party leadership race to attend such a meeting at the request of junior party members. Because many of the junior members in the group have weak political footholds, it seems that they wanted to evaluate the candidates over who would be a good standard-bearer for the next lower house election.
After the meeting, Fukuda told reporters: "The scenes were watched not only by party members but also by members of the public. It was a half step forward [toward party reforms]."
However, factions have already begun pressuring members of the group to toe the faction line on various matters. The junior LDP members will be tested on whether they are able to carry through with their initial intentions.
Add TheJapanNews to your Google News feed.