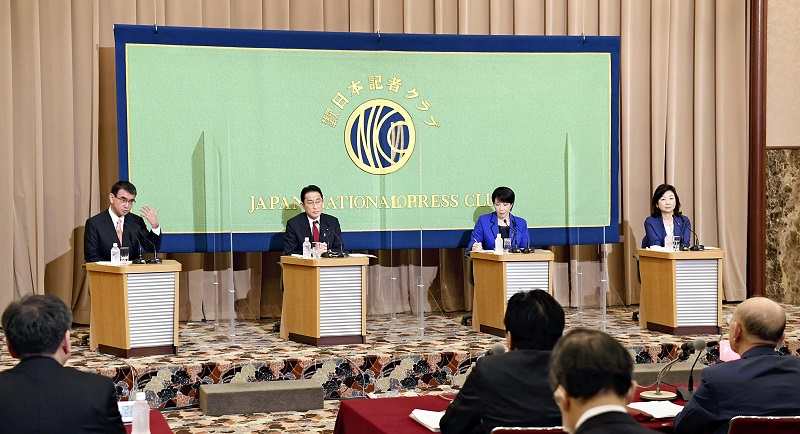 18:04 JST, September 19, 2021
The four hopefuls to become the next prime minister squared off in a heated debate in Tokyo on Friday, with Taro Kono having to fend off the constant grilling from his Liberal Democratic Party presidential rivals.
Former LDP Policy Research Council Chairperson Fumio Kishida, LDP Executive Acting Secretary General Seiko Noda and former Internal Affairs and Communications Minister Sanae Takaichi all raised questions about the feasibility of the administrative and regulatory reform minister's proposals on pension and energy policies.
"The idea of covering the entire amount of the National Pension system with taxes would mean a hefty tax increase," Takaichi said at the start of the debate held at the Japan National Press Club in Chiyoda Ward.
She bitterly questioned Kono's proposal to secure a guaranteed minimum payout of pension benefits entirely financed through tax revenues.
Kono brought up the current situation where many low-income earners have no choice but to rely on public assistance programs because they cannot afford to pay their pension premiums, thus the amount of pension benefits they will receive is reduced.
"The premium-based pension system can't guarantee a minimum amount of benefits," Kono said, stressing, "A guaranteed minimum pension can only be achieved through tax revenues."
He also proposed that people with incomes above a certain level be exempted from eligibility to receive the minimum pension.
"It's important to specifically indicate an actual tax increase in percentage terms and discuss it," Kishida said. "The feasibility must be studied in detail."
Kono replied, "If I cite a tax rate, it will be the only part quoted, so I'm not going to be mentioning it."
The guaranteed minimum pension has long been a pet idea held by Kono. In December 2008, he announced with other lawmakers pension reform centered on the creation of a minimum payout. One of those lawmakers was the now-defunct Democractic Party of Japan's Yukio Edano, the current head of the main opposition Constitutional Democratic Party of Japan.
The DPJ advocated a "minimum guarantee pension" and included it in its manifesto for the 2009 House of Representatives election.
At the time, the highest estimate said that a consumption tax rate increase to over 16% was needed to realize a guaranteed minimum pension of ¥70,000 per month. The LDP had fiercely criticized the DPJ plan, saying it completely disregarded the financial resources necessary.
Some people in Kono's camp were cautious about his move to propose pension reform, which has been highly criticized within the LDP. Kono has, however, toned down his stance regarding phasing out nuclear energy and the possibility of female-line emperors. He is believed to have maintained his stance on social security policy to assert his presence.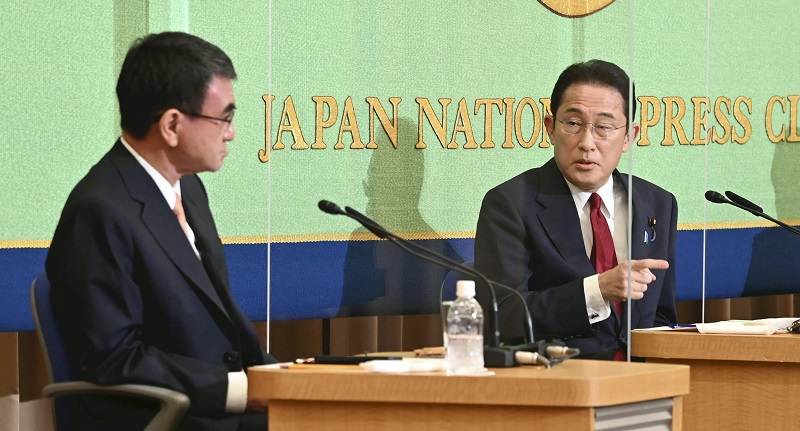 Nuclear power policy
The debate on energy policy also revolved around Kono.
Noda, whose son requires a ventilator, said, "There should never be a case where a stable supply of electricity cannot be guaranteed." She then asked Kono whether he would immediately take steps to phase out nuclear power plants if he becomes prime minister.
"The nuclear power phaseout I'm talking about only means the gradual decommissioning of reactors that have reached the end of their useful life," Kono said.
Kono has proposed scrapping the nuclear fuel cycle that is at the core of the nation's nuclear energy policy. In light of this stance, Kishida asked whether it would be "compatible" with the restart of nuclear power plants.
Kono avoided answering the question directly, saying, "The biggest problem with nuclear power is that it remains undecided how to dispose of nuclear waste."
Citing the decommissioning of the Monju fast breeder reactor among other relevant issues, Kono pointed out that the nuclear fuel cycle is at a standstill.
"We should discuss the issue of how to realistically dispose of [nuclear waste]," Kono said.
The government will likely face difficulties in coordinating with relevant local governments in selecting a final disposal site for high-level radioactive waste.
"This has become a matter for the government to take leadership and responsibility," Kono said.
Knocking Suga Cabinet's explanations
Kono, who leads the rollout of vaccinations against the novel coronavirus, and Kishida agreed during the debate that the Cabinet led by Prime Minister Yoshihide Suga had not done enough to provide "careful explanations" to the public in terms of coronavirus infection control measures.
Although Kono said the vaccination program is proceeding smoothly and the inoculation of all those who wish to be vaccinated will mostly be completed in the first half of November, he added that the Cabinet unfortunately failed to provide sufficient explanations on the measures as a whole.
"That was something the Cabinet should have done unequivocally," Kono said.
"There was a problem in explaining the coronavirus infection control measures in a convincing way," Kishida said, adding, "If we don't take action assuming the worst, it will appear that we are falling behind."
Their remarks reflect the criticism that Suga has not placed much emphasis on careful information dissemination to the public on the control measures.
When it comes to issues of the alteration of documents related to the sale of state-owned land to Moritomo Gakuen during the administration led by former Prime Minister Shinzo Abe, Kono and Kishida also agreed that there is no need to reinvestigate the case.
Kono said the investigation was at the very least carried out properly. Kishida went no further than saying it is important to explain the situation from a political standpoint.
Noda, who believes a reinvestigation of the case is necessary, said: "As long as there is doubt, the suspects must prove that their hands are clean. If I become prime minister, I will seek honesty from my associates and peers."
Add TheJapanNews to your Google News feed.