Candidates stake claims for LDP's top post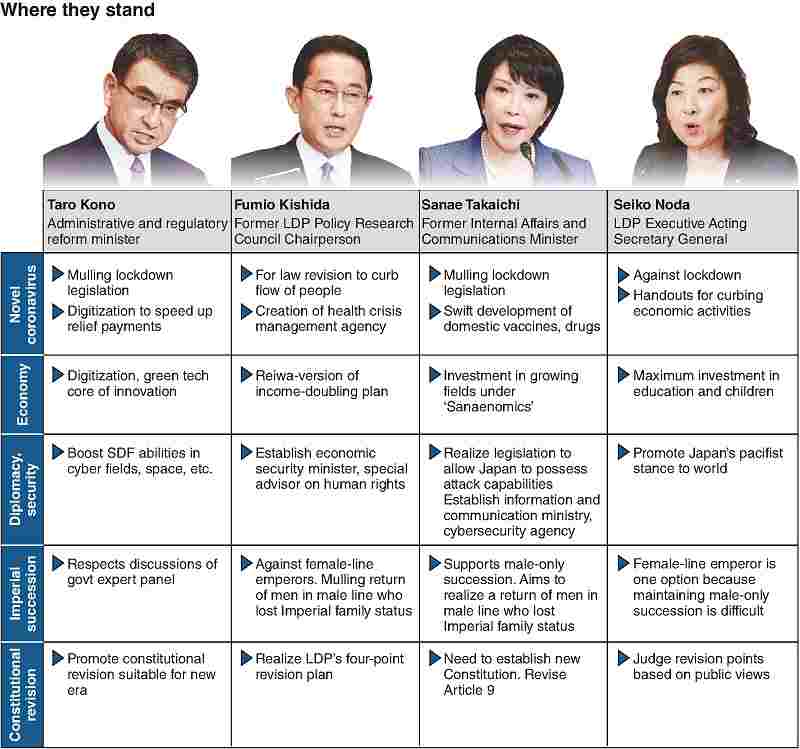 16:19 JST, September 18, 2021
The four candidates in the Liberal Democratic Party's presidential race switched into gear when campaigning officially started on Friday, with novel coronavirus measures and economic revival at the forefront of election issues.
All the candidates gave speeches at LDP headquarters on the day.
"I want you to entrust Japan's coronavirus response to me, Kono Taro," said the administrative and regulatory reform minister.
Kono, who has been supervising vaccine distribution in the Cabinet of Prime Minister Yoshihide Suga, expressed his pride at having played a key role in the nation's battle against the pandemic.
Kono stressed the importance of developing a digital system to speed up the payment of government handouts to restaurants and other establishments that comply with requests to suspend operations or shorten opening hours to mitigate the spread of infections.
The other candidates also touted pandemic proposals.
Former LDP Policy Research Council Chairperson Fumio Kishida called for the establishment of a health crisis management agency to function as a control tower.
"The cooperation of the general public is essential in the fight against the coronavirus," he said.
Kishida promised to "carefully explain the process leading to decisions," a remark that could be interpreted as a veiled reference to Suga, who has been criticized for his lack of explanations regarding infection measures.
Former Internal Affairs and Communications Minister Sanae Takaichi called for investment to "swiftly develop domestic vaccines and drugs, and production facilities."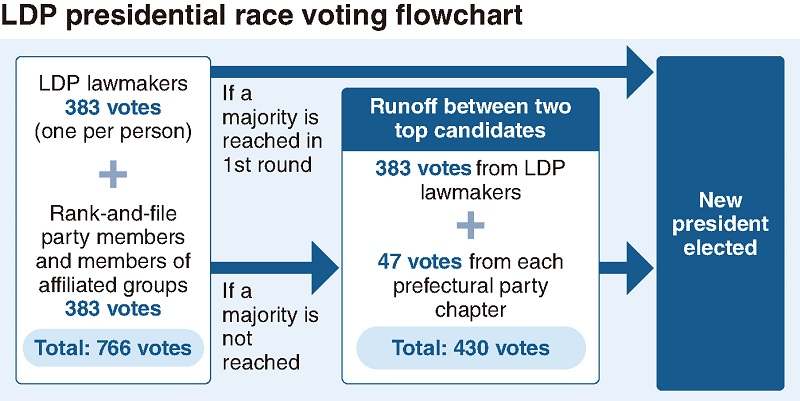 LDP Executive Acting Secretary General Seiko Noda proposed creating temporary hospitals to increase the number of beds for COVID-19 patients.
All four candidates expressed their understanding of the government's recently announced proposal regarding the easing of restrictions on social activities.
Kishida said he would create an environment that would prevent the collapse of the medical system and aim to "restore social and economic activities to near normal levels as soon as possible."
Kono expressed his willingness to supply a large number of simple test kits. "If they are used at events and schools, it will open up various possibilities," he said.
At Friday's joint press conference, Takaichi said she would "do what can be done to move the economy forward," by pushing ahead with vaccinations and the development of COVID-19 treatments.
Noda said, "There are many diseases. We must not stop the economy."
Regarding economic policy, Takaichi called for further acceleration of the Abenomics policy package advocated by former Prime Minister Shinzo Abe, while Kishida and Kono proposed some revisions.
Takaichi, who is backed by Abe, is calling for the development of Abenomics under a new name: "Sanaenomics."
She has proposed replacing growth strategy, one of the three arrows of Abenomics, with investment, stressing the need to promote investment in crisis management and advanced technology.
Kishida's key policy is a Reiwa-version of the income-doubling plan to boost the income of middle-income earners. The plan was originally launched in 1960 by former Prime Minister Hayato Ikeda, who established the Kochikai faction, a predecessor of the Kishida faction.
Like the Suga Cabinet, Kono has positioned accelerating digitization and decarbonization as growth areas, expressing hope that renewable energy "becomes a new seed for Japanese industry."
He also said, "nuclear power plants will eventually disappear," and that "running the country on 100% renewable energy won't be an empty wish."