LDP race difficult to call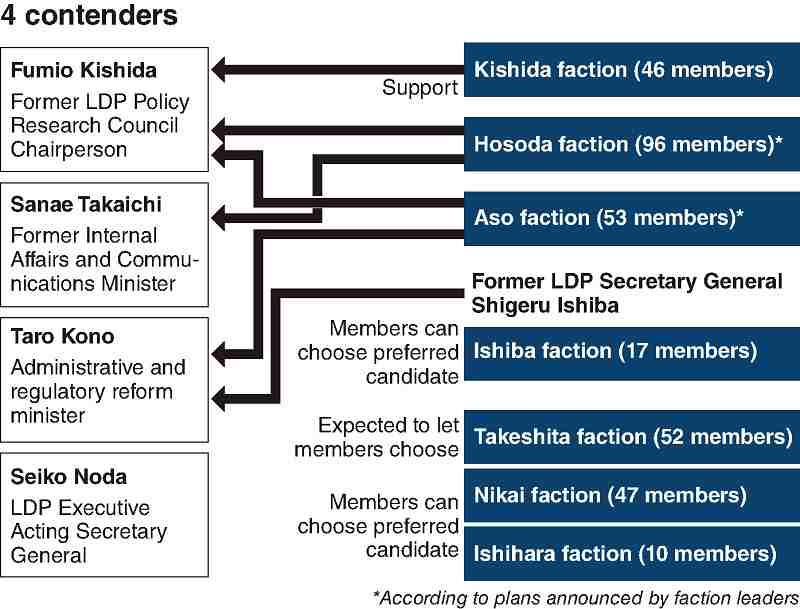 16:44 JST, September 17, 2021
The decision by some Liberal Democratic Party factions not to unify support for one candidate in the presidential election has made the outcome difficult to predict.
According to a Yomiuri Shimbun survey of LDP lawmakers, the election is shaping up as a three-horse race between former LDP Policy Research Council Chairperson Fumio Kishida, administrative and regulatory reform minister Taro Kono, and former Internal Affairs and Communications Minister Sanae Takaichi, with LDP Executive Acting Secretary General Seiko Noda trailing at this stage.
If no candidate wins a majority in the first round of voting, the two who received the most votes will contest a runoff — a scenario that looks increasingly likely.
"I want to crank up the voltage [to secure support]," Kishida said to reporters Thursday after meeting with Keidanren (Japan Business Federation) Chairman Masakazu Tokura in Tokyo. "I'm confident of victory."
According to the survey, Kishida had a slight advantage, but about 40% of LDP lawmakers did not state which candidate they plan to support.
Kishida is the sole faction leader in the race and he has the solid backing of his faction's 46 members. Kishida also has the backing of some members in the party's two largest factions — the 96-member Hosoda faction and the 53-member Aso faction.
Kishida is building support among House of Councillors members and veteran lawmakers, who are seeking a party leader considered to be a safe pair of hands.
Takaichi once belonged to the Machimura faction, the predecessor of the Hosoda faction. About 70% of Takaichi's support has come from Hosoda faction members. Former Prime Minister Shinzo Abe wields considerable influence in this faction. He has telephoned all its junior and middle-ranking lawmakers to urge them to line up behind Takaichi. The staunchly conservative Takaichi has also been drumming up support among conservative lawmakers who are not members of a faction.
Middle-ranking and junior lawmakers with weak support bases in their constituencies are the main backers of Kono. Many of these lawmakers hope Kono will become the LDP's standard-bearer when they stand in the House of Representatives election that will be held after the LDP leadership race.
Kono has been cooperating with former LDP Secretary General Shigeru Ishiba and Environment Minister Shinjiro Koizumi, who have both polled well in public opinion surveys. Ishiba and Koizumi were among the 28 people who attended a meeting with Kono on Thursday to confirm their support.
Noda also is keen to widen her support base. "Though my ability is limited, I'll do my best and work hard with my supporters," Noda said Thursday.
Candidates will vie for 766 votes in total — 383 cast by LDP lawmakers, and an equal number of ballots based on votes cast by party members and members of affiliated groups across Japan. The candidate who receives a majority of valid ballots wins.
The Kono camp is drawing up a strategy that seeks to capitalize on his name recognition to secure a decisive chunk of votes held by party members.
Many observers think that the four-way tussle will not deliver a clear-cut victor, which would result in a runoff between the top two candidates.
The 383 lawmakers would still get one vote each in a runoff, but party members only get a single ballot for each of the 47 prefectural LDP chapters, meaning the lawmakers will account for a much larger proportion of the ballots.
The election outcome likely will hinge on the actions of the Hosoda faction, which has declared its support for Kishida and Takaichi.
The faction is planning to throw its weight behind a single candidate in the event of a runoff.
"Even if Mr. Kono leads after the first ballot, it would be possible for the 'Kishida-Takaichi alliance' to turn the tables and ultimately lead to one of the pair winning," a midranking Hosoda faction lawmaker said.
The 47-member Nikai faction held a meeting in Tokyo on Thursday but was unable to settle on which candidate to support. The faction agreed to draw together the opinions of its members should a runoff occur.
A come-from-behind win in a runoff has happened before. In the 2012 LDP presidential election contested by five candidates, Ishiba finished first with a large number of votes from party members. However, the second-placed Abe ended up winning the runoff.
"If the LDP ends up selecting a candidate out of tune with party members, who closely reflect the opinions of the public, the party could pay a heavy price in the lower house election," an LDP heavyweight said.