Ishiba's possible support presents dilemma for Kono in LDP presidential race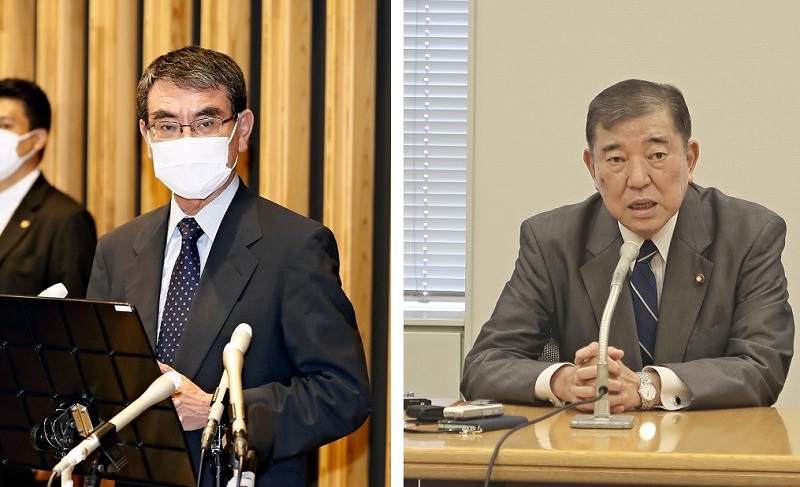 15:51 JST, September 8, 2021
Taro Kono, the minister in charge of administrative and regulatory reform, finds himself in a complicated situation, with Shigeru Ishiba considering supporting Kono in the race for president of the Liberal Democratic Party.
Support from Ishiba, a former LDP secretary general, could appeal to party members and junior lawmakers, given Ishiba's high popularity in opinion polls. According to observers, however, his cooperation would inevitably harm Kono's relationship with Deputy Prime Minister and Finance Minister Taro Aso and former Prime Minister Shinzo Abe, both of whom are at odds with Ishiba.
"Please ask Mr. Ishiba. I have no way of answering your question if you ask me about Mr. Ishiba," Kono said bluntly to reporters at a press conference Tuesday when asked about Ishiba possibly supporting him.
In a nationwide poll conducted by The Yomiuri Shimbun on Saturday and Sunday, 23% of respondents chose Kono as the best candidate to be the next prime minister. Ishiba came in second at 21%.
Both are considered by party members to be a "face who could lead the LDP to victory" in the upcoming House of Representatives election. They are also expected to have an advantage when it comes to gathering votes from party and fraternity members in the LDP presidential election, the outcome of which is likely to reflect trends in public opinion.
"If they team up, Mr. Kono should carry all before him. [The LDP] would be able to win the lower house election by a landslide," said an LDP middle-ranking member of the Ishiba faction who is pushing for their cooperation.
The lawmaker thinks the alliance is in line with Kono's strategy to become the "face of the party" that junior and middle-ranking lawmakers are eagerly seeking in the lower house election.
However, the situation is not so simple for Kono, who belongs to the 53-member Aso faction. Ishiba has a history of trying to unseat Aso as prime minister during the Aso administration.
Ishiba also was a fierce critic of the second administration of Prime Minister Abe. With these factors in the background, Ishiba has been at odds with the two heavyweights.
Should Kono become too close to Ishiba, both Aso and Abe — who has influence in the LDP's largest Hosoda faction, with 96 members — may cooperate under an "anti-Ishiba" banner to prevent Kono from winning.
"The collaboration between Mr. Kono and Mr. Ishiba could cause a bad chemical reaction," a Cabinet minister said.
Kono has been busy laying the groundwork with members of the Aso faction, who remain cautious about his candidacy.
He met Aso at the Finance Ministry building Tuesday, as he had on the previous day, as part of his efforts to avoid a deterioration in his relationship with Aso.
Kono also visited Akira Amari, the chairperson of the Research Commission on the Tax System, and others who are unenthusiastic about Kono's candidacy. Kono is believed to have informed them that he is seeking understanding within the faction.
Some lower house members close to Kono expressed concern, saying that his image as a reformer could be tarnished if he is deemed to be only paying attention to his faction.