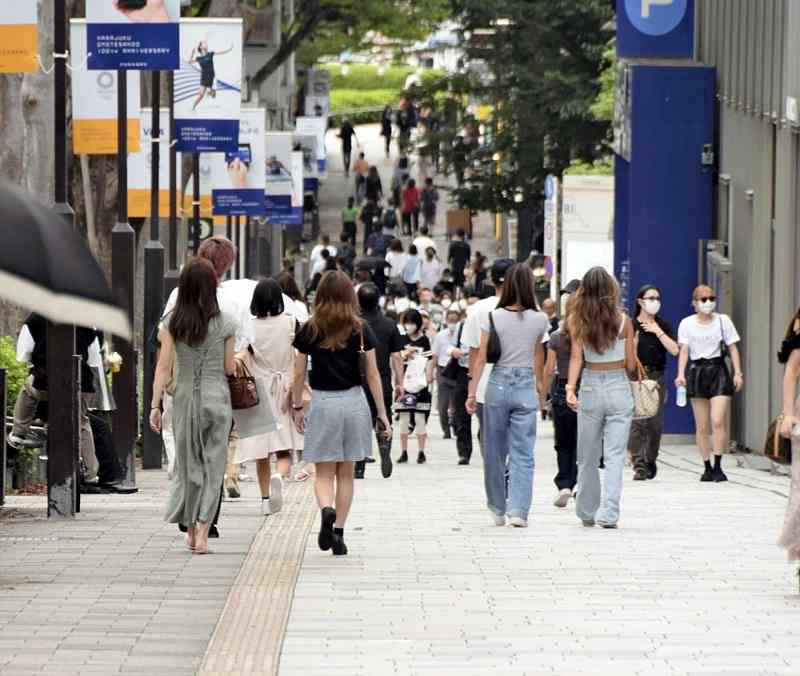 15:45 JST, September 7, 2021
According to a Health, Labor and Welfare Ministry survey, about one in five Japanese women in their 20s is underweight, a high percentage compared with other advanced nations.
The health ministry has launched measures to counter a problem it has positioned as an issue of national significance as underweight women are at higher risk of low bone mass and are more likely to give birth to infants with low birth weights.
One meal a day
"Everyone in my class is on a diet," said a 14-year-old student of a junior high school in Tokyo. "I often skip dinner. I sometimes eat only one meal a day," she said while holding a tapioca drink on Takeshita-dori street in Tokyo's Harajuku area in early August.
To maintain her slender figure, the student, who is 157 centimeters tall and weighs 40 kilograms, said she restricts the amount of food she eats rather than balancing her diet.
In a survey conducted this spring by the National Center for Child Health and Development on about 300 fourth-grade elementary to high school students, 40% of respondents said they were quite fat or overweight. About half of the respondents, which included boys and girls, said they were on a diet to lose weight.
According to the health ministry's 2019 National Health and Nutrition Survey, 21% of women in their 20s were classified as underweight, with a body mass index (BMI) of less than 18.5. The percentage has been on an upward trend since 1981 when 13% of women were classified as underweight.
BMI is used internationally as an indicator of obesity, regardless of gender. It is calculated by dividing body weight in kilograms by the square of a person's height in meters. An adult with a BMI of less than 18.5 is considered to be underweight, 18.5 to less than 25, in the normal range, and 25 or more, overweight or obese.
About 10% of all adult women in Japan are underweight, a figure three to four times higher than those of other countries in the Organization for Economic Cooperation and Development.
The health ministry issued a report on the nation's dietary habits in June, in which it warned that young underweight women are at risk of long-term health issues.
Malnutrition can lead to bone loss, anemia, and menstrual irregularities, and insufficient protein intake tends to result in low muscle mass.
Bone mass peaks when people are in their 20s, and it starts to decrease partly because calcium absorption declines with age.
Malnutrition in youth can lead to conditions in middle age like osteoporosis, which weakens bones, making them fragile and more likely to break, and increases the risk of people needing nursing care or becoming bedridden.
According to a report released in March by Hidemi Takimoto of the National Institute of Health and Nutrition, 70% of underweight women in their 20s and 30s had no intention of changing their eating habits.
"As many people think the thinner they are, the more beautiful they are, they don't recognize the issue as a health problem," Takimoto said.
This issue is likely to have an impact on the next generation, too.
It has been reported that the risk of giving birth to a low birth weight infant is 1.5 times greater for underweight women compared to women with a standard physique. The risk of premature birth is also increased.
Newborn babies that weigh less than 2,500 grams are classified as low birth weight infants. Causes include premature birth or fetal growth retardation, where the fetus does not gain enough weight in the womb. Most newborns weigh about 2,500-4,000 grams. The average weight of a newborn in Japan is about 3,000 grams.
Studies in Japan and abroad have shown that low birth weight babies are more likely to have diabetes, heart disease, and high blood pressure in adulthood. This is believed to be due to the fact that when babies are undernourished in the womb, they are more likely to store fat and other substances in their bodies.
The percentage of low birth weight newborns in Japan has remained as high as about 10% for the past 10 years. According to 2018 OECD data, the figure is the second-highest after Greece.
Revised guidelines
The increase in the percentage of underweight women has been identified as an issue of national significance. Along with measures to reduce salt intake, the government has stated that effective measures based on research on dietary habits are needed.
Pregnant women were the focus of the first measures implemented by the government. This spring, for the first time in 15 years, the health ministry revised the guideline for appropriate weight gain during pregnancy, increasing it by about 3 kilograms. For underweight pregnant women, an increase of 9 to 12 kilograms was previously recommended, but this has been increased to 12 to 15 kilograms.
Pregnant women naturally gain about 10 kilograms in weight due to the growth of the fetus and placenta, and an increase in subcutaneous fat and blood volume to protect the fetus. However, some pregnant women who are conscious about their figures are reluctant to gain too much weight.
"To gain weight appropriately during pregnancy, it is important to develop nutritionally balanced eating habits," said Prof. Atsuo Itakura of Juntendo University, a perinatology specialist who was involved in the revision of the guidelines.
As it is difficult for women to suddenly change their diets when they become pregnant, Itakura said they must have an appropriate understanding of dietary habits from a young age so they can adjust their eating habits before they become adults.
"Young women who are underweight face future risks that could affect their health in middle age and also the health of the next generation," Itakura said. "This awareness must be shared by everyone in society, and ways must be devised to disseminate such important information so that the message reaches people in their teens and 20s."
Add TheJapanNews to your Google News feed.