LDP factions might loosen members' leashes in leadership race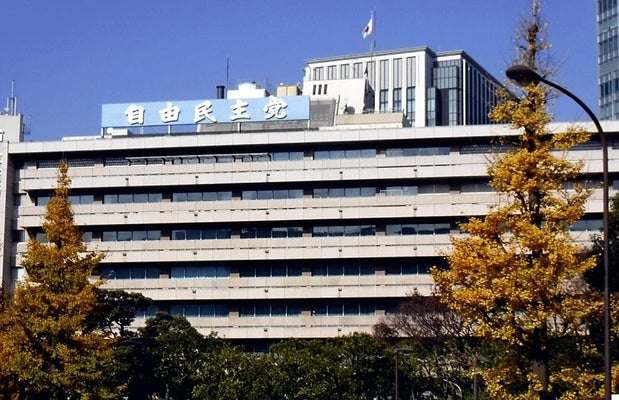 18:09 JST, September 7, 2021
With some Liberal Democratic Party factions hinting at loosening the leashes of members in the leadership election on Sept. 29, junior lawmakers seeking a fresh face who can lead the party to victory in the forthcoming lower house poll look likely to swing the race.
At a meeting on Monday, senior members of the faction led by former LDP General Council Chairman Wataru Takeshita were told to "act in unison" in the presidential election, but the discussion did not move beyond a call for unity.
Foreign Minister Toshimitsu Motegi, who is acting chairman of the 52-member faction, told reporters after the meeting: "The situation is changing in various ways. [Faction members] have different circumstances from constituency to constituency. We want to consolidate our opinions after carefully listening to our members."
Former House of Councillors member Mikio Aoki, who still yields influence among the Takeshita faction's upper house members, told members he met on Monday to aim to consolidate a position within this week.
Most LDP factions, including the Takeshita faction, have adopted a wait-and-see approach since Prime Minister Yoshihide Suga announced his decision not to seek reelection for the party presidency.
Among the seven LDP factions, the 46-member faction led by former LDP Policy Research Council Chairman Fumio Kishida has decided to back its leader in the leadership race.
In addition to the fact that the campaign line-up has not been finalized, a major factor in the delayed declaration by factions is the forthcoming lower house election, which will follow the LDP leadership poll.
There are 275 LDP members in the lower house, excluding the lower house speaker. Almost half, or 126, have been elected three times or fewer, most of whom were elected in or after the 2012 general election, in which the LDP regained power, and they lack the experience of fighting in a tough election battle.
With weaker support bases, many junior lawmakers are prioritizing their reelection bids in the lower house poll over the positions of their factions on the presidential election.
If factions hastily try to declare their support for a candidate in the leadership with post-election political appointments in mind, there is a risk that internal conflicts may surface due to dissent among junior members.
"In the end, we may have to let members vote for whoever they want," a senior Takeshita faction member said.
The largest LDP faction led by former Chief Cabinet Secretary Hiroyuki Hosoda, with 96 members, is no exception.
Former Prime Minister Shinzo Abe, an influential member of the faction, is trying to drum up support for former Internal Affairs and Communications Minister Sanae Takaichi.
However, a junior faction member said, "I want to vote for a candidate who's polling well in public opinion surveys."
The 53-member faction led by Finance Minister Taro Aso is also in a tight spot. Aso, who also serves as deputy prime minister, has not indicated who he will back for the top LDP post. However, Aso faction member Taro Kono, the minister in charge of administrative and regulatory reforms, has decided to run in the leadership race.
Kono, who has more than 2.36 million followers on Twitter, has been polling well in opinion surveys and is known for being an effective communicator. A number of junior members in the Aso faction are expected to back him.
Some political pundits think the presidential election will go to a runoff if a crowded pack of candidates splits the votes and factions lose their grip on their members.
If three or more candidates run in the election and none of them receives a majority in the first round of voting, there will be a runoff between the two top candidates.
"It is necessary to build cooperative relationships with other factions with the possibility of a runoff in mind," said a Hosoda faction upper house member.
Depending on how the election unfolds, there may be a situation in which a faction makes its presence felt.