Japan's vaccine czar Kono picked by 23% as suitable next PM, Yomiuri poll finds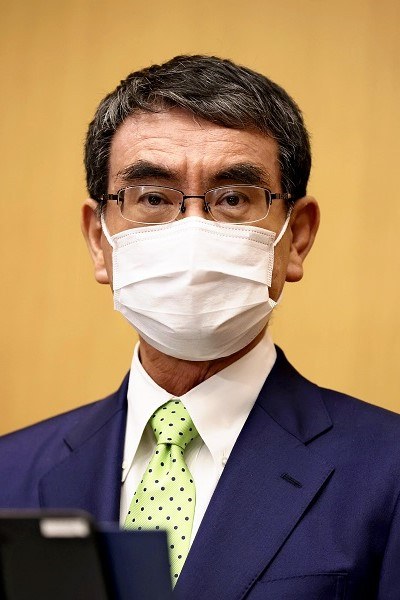 15:46 JST, September 6, 2021
Taro Kono, minister in charge of administrative and regulatory reforms, was picked by 23% of respondents as a suitable next prime minister, higher than any other Liberal Democratic Party member, in the Yomiuri Shimbun's latest public opinion poll.
Kono was followed by Shigeru Ishiba, former secretary general of the LDP, at 21%, and by Fumio Kishida, former chairman of the party's Policy Research Council, at 12%.
In connection with the LDP's presidential election, whose campaigning will officially kick off on Sept. 17 and held on Sept. 29, Sanae Takaichi, former internal affairs and communications minister, who is expected to be supported by former Prime Minister Shinzo Abe, has secured 20 LDP members who would nominate her candidacy for the race. However, she only garnered support of 3% in the poll.
The nationwide poll was conducted on Sept. 4 and 5, following the Sept. 3 announcement by Prime Minister Yoshihide Suga that he will not seek reelection as LDP president. Respondents were asked to pick one of the 10 LDP members suggested.
Coming in fourth in the poll was Environment Minister Shinjiro Koizumi at 11%. Abe was supported by 5%, while Seiko Noda, executive acting secretary general of the party, was chosen by 2%.
In the previous poll, taken from Aug. 7 to 9, respondents were asked to pick from among Suga and the same 10 LDP members. In that poll, Ishiba led with 19% support and Kono garnered 18%. Both Kishida (4%) and Takaichi (1%) were picked by a larger percentage of respondents this time.
In the latest poll, among LDP supporters Kono was picked by 30%, with Ishiba at 21%. They were followed by Kishida at 12%, Koizumi at 10%, Abe at 8%, and Takaichi at 5%, showing no difference from the order among all respondents. In the previous poll, Kono gained 24% with Ishiba at 19% among LDP backers.
If Takaichi or Noda runs for the LDP presidency, either would be just the second woman to do so. Tokyo Gov. Yuriko Koike, then an LDP member in the House of Representatives, ran for the presidency in 2008.
The likelihood of Takaichi running is increasing as she started drawing up policies and making preparations on Sunday.
Abe, for his part, called legislators who belong to the Hosoda faction of the LDP, led by Hiroyuki Hosoda and from which Abe once belonged, and members of the Takeshita faction, led by Wataru Takeshita, asking them to support Takaichi.
Takaichi, known for her conservative political views, has served as chairperson of the party's Policy Research Council as well as internal affairs and communications minister.
Noda, who has shown an interest in running, has been rushing to gain enough LDP members who would recommend her.
Kishida, who has declared his intention to run in the race, on Sunday participated in a livestream on YouTube and answered questions from viewers. He emphasized his stance of listening to voices from a broad range of people.
Kono, who plans to hold a press conference to declare his candidacy this week, discussed his policies with a group of people including fellow legislators at the lower house members' office building on Sunday.
Ishiba is contemplating whether to run. He has told people around him, "I'm confident of gaining enough members who will nominate me and I have made preparations regarding my policies."
The latest poll was conducted using the random digit dialing method on eligible voters ages 18 and over. Of the 772 fixed-line numbers dialed, 478 produced valid responses for a 62% response rate. Of the 1,371 mobile phone numbers dialed, 664 valid responses were obtained for a 48% response rate. The total number of respondents was 1,142.