Suga's maneuvers to protect his post backfire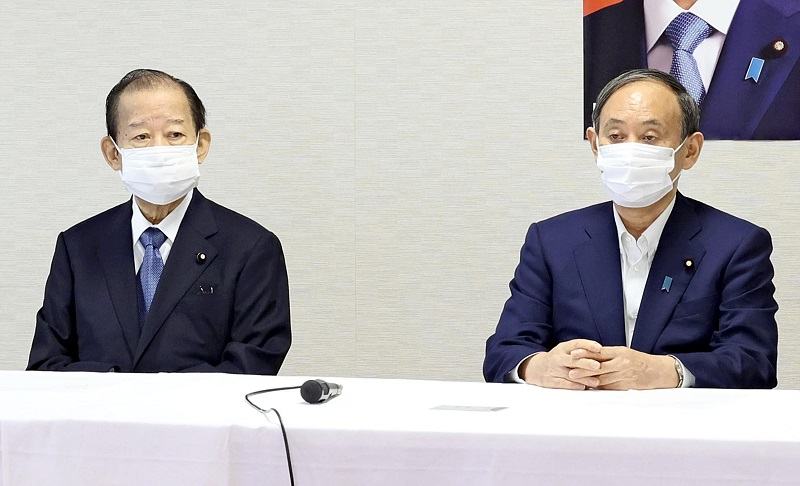 19:02 JST, September 4, 2021
Prime Minister Yoshihide Suga lost support quickly, leading him to announce he would not run in the upcoming Liberal Democratic Party presidential election, as his political maneuvers — efforts to reshuffle LDP executives, dissolve the Diet and delay the party leadership race — ran into a wall.
Former Prime Minister Shinzo Abe and Deputy Prime Minister Taro Aso, who also serves as finance minister, initially backed Suga's bid for reelection as LDP president, but they became distant from him. Suga was unable to prevent the collapse of his support base.
"I will not run in the presidential election, and I also will not reshuffle [LDP] board members," Suga said during an extraordinary meeting of LDP executives at the party's headquarters on Friday morning.
According to a source who was at the meeting, attendees froze when Suga, who was expected to seek consent for his intended reshuffle, made such remarks with a stiff expression. No one spoke other than LDP Secretary General Toshihiro Nikai, who said, "Let's accept the president's decision." When Suga left the meeting, everyone stood up and applauded, the source said.
Suga made this move only after he visited Nikai at the secretary general's office at the LDP headquarters on Thursday to inform the party heavyweight of his intention to seek reelection. To prepare for the presidential race, Suga had already informed people around him that he intended to launch an economic stimulus package on the scale of ¥30 trillion, and was laying the groundwork for giving orders to formulate the package at a Cabinet meeting scheduled for Tuesday, according to sources.
However, Suga decided not to run for the presidency on Thursday night, and his family strongly urged him to step down, the sources said. Suga informed Nikai, Chief Cabinet Secretary Katsunobu Kato and others of his decision the following morning.
Suga's predicament had deepened following the Yokohama mayoral election on Aug. 22. Hachiro Okonogi, a former chairperson of the National Public Safety Commission who was fully backed by Suga, was defeated in the election. As the LDP had already suffered defeats in one major election after another, Suga found his clout dwindling quickly.
Once the LDP leadership race was decided to be held on Sept. 29 with official campaigning to start on Sept. 17, Fumio Kishida, a former chairperson of the LDP Policy Research Council who had announced his candidacy for the election, was increasingly seen as having the upper hand. Because of Suga's unpopularity, the party faction led by Hiroyuki Hosoda, in which Abe has influence, as well as the Aso-led faction were not united in throwing their support behind Suga.
Suga apparently began to feel cornered by such circumstances and came up with the plan of replacing LDP executives including Nikai. He also became inclined to delay the LDP presidential race by dissolving the House of Representatives.
However, all of these moves were met with fierce criticism from party members as desperate attempts to "prolong his life" as prime minister and party leader. Regarding appointments of new LDP executives, speculation spread that even if party members received offers, no one would accept the offers as their factions would stop them, according to a former cabinet member.
Abe discouraged Suga from dissolving the lower house on the night of Aug. 31, reportedly telling him: "It could cause a revolt within the party." Suga stopped short of giving Abe a clear response on the spot. However, he told reporters on the following day, "We are not in a situation where the Diet can be dissolved." The prime minister apparently had no choice but to rule out the option of Diet dissolution.
"In the end, his authority to dissolve [the Diet] was blocked and he was unable to take control of politics. His spirits flagged all at once," a source close to the prime minister said.
Digitization, decarbonization
The Suga Cabinet has made some progress in areas where Japan has lagged behind other countries, such as digitization, decarbonization and lowering mobile phone charges, as well as in reforms for the benefit of consumers. However, the administration was criticized for its handling of measures against the novel coronavirus pandemic.
At a press conference on Friday, Kato cited measures related to global warming, digitization, child rearing support and revitalization of regional areas as the achievements of the Suga Cabinet. Kato said the Cabinet "has promoted initiatives that pave the way for Japan's new growth."
Suga placed particular focus on unifying digitization policies and measures against global warming.
On Wednesday, Suga achieved the launch of the Digital Agency that he had pledged in the LDP leadership race held in September last year. In June, his Cabinet made it possible to provide cash benefits to people with the use of the My Number identification system for the first time.
Regarding measures to combat climate change, Suga declared in his policy speech last October that Japan will aim to reduce greenhouse gas emissions to net zero by 2050. In line with the global trend, he also set in April an interim target of slashing greenhouse gas emissions 46% by fiscal 2030 from the fiscal 2013 level.
As for mobile phone charges, companies have started to offer low-cost plans since this spring. Suga also has announced a plan to establish a children's affairs agency and created a timeline for measures to support infertility treatment.
However, these achievements have not become widely known among people due to the prime minister's "poor presentation ability," a senior LDP member said.
A major challenge for Suga in managing the government was COVID-19 measures. His government has repeatedly declared and lifted states of emergency since January, drawing criticism for its "lack of strategy" for responding to the pandemic. It focused on making progress in COVID-19 vaccinations by setting such goals as "administering 1 million doses a day" and "completing inoculations of the elderly by the end of July." However, its efforts to improve healthcare systems, including securing hospital beds, were seen as falling short.
Suga was also criticized for his public speaking at press conferences and on other occasions, with some people saying he was merely "reading in a monotone" and that his speaking "does not reach people's hearts." As a result, his Cabinet saw its approval rating fall by half over the past year.