LDP election landscape in disarray: Kono, Ishiba eye public opinion as Kishida touts policy pledges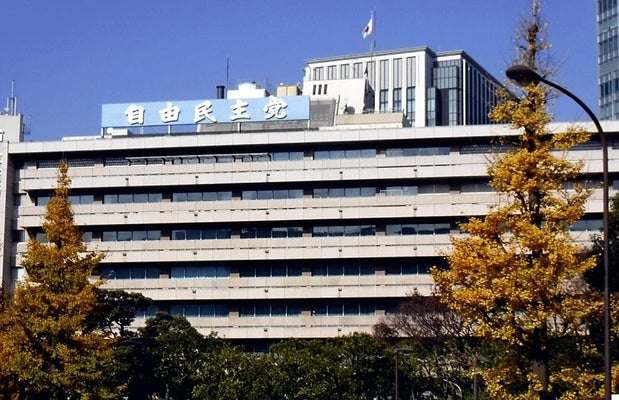 20:09 JST, September 4, 2021
The upcoming Liberal Democratic Party presidential race has drastically changed following Prime Minister Yoshihide Suga's announcement that he will not seek reelection.
Campaigning in the leadership election is slated to start officially on Sept. 17 with voting on Sept. 29.
Taro Kono, the minister in charge of administrative and regulatory reform, has expressed his resolve to run in the election, and former LDP Secretary General Shigeru Ishiba is also considering declaring his candidacy.
With Fumio Kishida, a former chairman of the party's Policy Research Council, having already declared his candidacy, the sans-Suga leadership race is looking likely to be a bumpy ride.
Fast mover
Kono moved quickly after Suga had announced his decision at the Prime Minister's Office not to stand in the LDP leadership election. Just one hour after the bombshell announcement on Friday, Kono told Deputy Prime Minister Taro Aso, the leader of the faction to which he belongs, that he would declare his candidacy.
Aso reportedly told Kono that if he were to step up now his leadership could be over in a year. According to sources, the leader of the 53-member faction advised Kono to consider "aiming to form a full-fledged administration another time."
"In the end, you'll have to decide for yourself," Aso reportedly said.
Aso had adopted the position that Kono, as a cabinet minister, should not run against Suga in a presidential race, but now the prime minister has decided not to run, that restriction has gone. Kono had not shown his hand regarding his possible candidacy, but speculations were rife that he would make a move if Suga stood aside.
Kono began shoring up support on Friday, calling officials of the Takeshita faction to arrange meetings. He also told a member of the House of Representatives who is not affiliated to an LDP faction, "I'm preparing to run in the presidential race and I'd like your cooperation."
As some veterans in the Aso faction are at odds with Kono over his anti-nuclear power stance, it remains to be seen whether the faction will be able to form a united front. Nevertheless, Kono has decided that he has a chance of winning.
In a nationwide survey conducted by the Yomiuri Shimbun in August, respondents were asked who would be the best choice for the next prime minister. Selected by 18% of respondents, Kono was the second most popular choice.
Kono is counting on the support of party members — which better reflect public opinion — and junior to mid-ranking lawmakers who are eager for a face that can win the lower house election.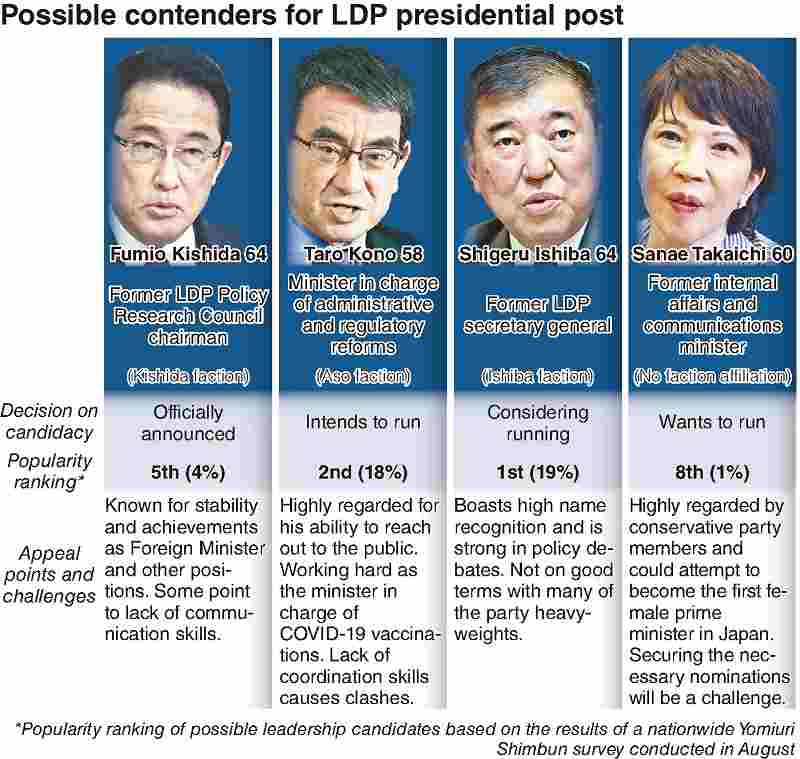 Popular choice
Ishiba is also regarded as one of the popular faces among party members. Having run in four LDP leadership races, his name is well known.
In the Yomiuri survey, Ishiba was the most popular choice for the next prime minister among respondents, at 19%. Even though he does not hold an executive post, he constantly receives requests for support in elections.
However, standing in Ishiba's way are leading figures within the LDP, including former Prime Minister Shinzo Abe and Aso, with whom he does not have a good relationship. When Ishiba was a member of the Aso Cabinet, he supported the removal of Aso as prime minister and he was also critical of the administration when he was a member of the Abe Cabinet.
During the LDP leadership race last year, he won only 26 votes from Diet members, the lowest among the candidates. He has complained that "the logic of Diet members is different from that of ordinary people."
With the party in a state of flux ahead of the lower house election, junior LDP lawmakers with weak electoral bases will be grappling with the question, "Who is the party leader who would give me the upper hand in the lower house race?"
Ishiba can expect favorable conditions as pressure from senior faction members is likely to prove ineffective. "There is no reason for him not to run," a source close to Ishiba has said.
In a Nippon TV program on Friday, Ishiba said: "Every day, I think about policies. Preparations shouldn't be rushed just because there is a presidential election."
He is expected to consider his candidacy carefully over the weekend.
Sanae Takaichi, a former internal affairs and communications minister, is among other party members who have shown an interest in running in the leadership race.
There is a possibility that more members will throw their hats into the ring, eying a leadership race without an incumbent as a golden opportunity.
Kishida forced to revise strategy
Meanwhile, Kishida, who had been expecting to face Suga in a one-on-one race, has been forced to rethink his strategy, with observers saying he lacks the appeal to stand out in a crowded contest.
After Kishida declared his candidacy on Aug. 26, he set his sights on "anti-Suga voters," who think that anyone other than Suga would be preferable as prime minister, a view held mainly among junior to mid-ranking LDP lawmakers.
There was widespread belief that Kishida would win in a one-on-one race with Suga, but as disarray swept through the Suga administration, a member of the Kishida faction said: "We should avoid driving the prime minister into a corner. If he steps down, Kono and Ishiba might step forward."
A sense of crisis is spreading within the faction now that those fears have become reality. "Kishida might be overshadowed," a faction member said.
Kishida's proposal to limit the terms of party executives to three consecutive one-year terms was what ended up driving Suga into that corner. "The opportunity has morphed into a pinch," a senior Kishida faction member said.
Kishida and senior faction members have been discussing how to respond to the situation. "Unexpected things happen in politics. We just have to continue what we have been doing," a senior member said.
As Kishida unveiled policies related to the pandemic on Thursday, a junior faction member said, "We can promote our policies ahead of other camps."
By Friday, however, Kishida was hunkered down in his office until late, looking through feedback he had received online.
"Whatever situation I have to deal with, I intend to face the public and party members and give it my best fight," he said.
Add TheJapanNews to your Google News feed.