16:26 JST, September 1, 2021
Prime Minister Yoshihide Suga's decision to replace the Liberal Democratic Party's secretary general just before the LDP presidential election is an unusual move that appears to be aimed at quashing the contentious issue of term limit restrictions for party executives advocated by Fumio Kishida, a candidate in the leadership race.
Yet, Suga's forceful approach ahead of a leadership race has triggered a backlash within the party.
"Enough has been achieved so far. I have no regrets," LDP Secretary General Toshihiro Nikai said to his aides on Tuesday regarding his more than five years in the post, the longest on record.
According to a senior party official, when Suga met with Nikai at the Prime Minister's Office on Monday, he mentioned the possibility of Nikai being replaced as secretary general in an upcoming reshuffle of party executives. "Please do it without hesitation," Nikai said.
One of the first faction leaders to announce his support for Suga in last year's LDP presidential election, Nikai has been in charge of the party's management, but his heavy-handed approach of prioritizing his faction has drawn criticism, particularly among younger members of the party.
Kishida, the former chairman of the party's Policy Research Council, has announced his candidacy for the LDP presidential election, with campaigning slated to kick-off on Sept. 17 and voting to take place on Sept. 29.
Kishida has proposed limiting the terms of party executives to three consecutive one-year terms, apparently with Nikai in mind. Although Nikai and other party executives have expressed their disapproval over the proposal, it was received favorably among the party's rank and file members.
With a movement against the prime minister gaining momentum, there is a widespread view that if Suga, who has seen his cabinet approval rating plummet, goes head-to-head against Kishida, Kishida would probably win.
Suga's decision to replace Nikai was made in order to gain the upper hand on Kishida.
In addition to putting the proposal to bed, it would also suit the wishes of former Prime Minister Shinzo Abe and Deputy Prime Minister Taro Aso, who are said to be unhappy with Nikai's clout within the party.
Suga's confidence may have been boosted by the decline in coronavirus cases in Tokyo. A close aide said, "The prime minister's fighting instinct has been switched on."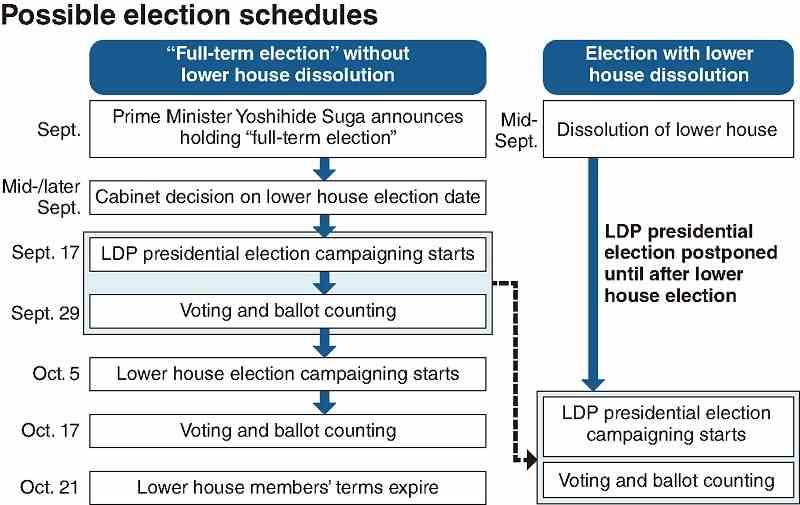 'Forbidden move'
However, Suga's personnel reshuffle at a stage when the schedule for the party's presidential race has been set has triggered criticism, with some calling it a "forbidden move."
"Ditching Nikai after Kishida had made his proposal is like waiting to see your opponent's hand before showing yours in a game of rock paper scissors," a senior party official said angrily. "Does he want to go that far to stay in power?"
The public's dissatisfaction with the government's handling of the pandemic is deep-rooted. Some people have said that axing Nikai will not help to buoy the administration.
Shigeru Ishiba, a former secretary general who is well-known and has been talked about as a possible party presidential candidate, has been eyed as a party executive. However, some LDP members are skeptical about elevating a powerful rival with an election just around the corner.
In addition to a reshuffle of party executives, There is widespread speculation within the party that he will dissolve the House of Representatives in mid-September and postponing the party presidential race until after the lower house election.
However, the proposal to postpone the presidential election has been met with objections even from within the Cabinet.
Environment Minister Shinjiro Koizumi, who has declared his support for the prime minister's re-election bid, told Suga Tuesday, "Postponing the presidential election would be the end for the prime minister and the LDP."
Add TheJapanNews to your Google News feed.