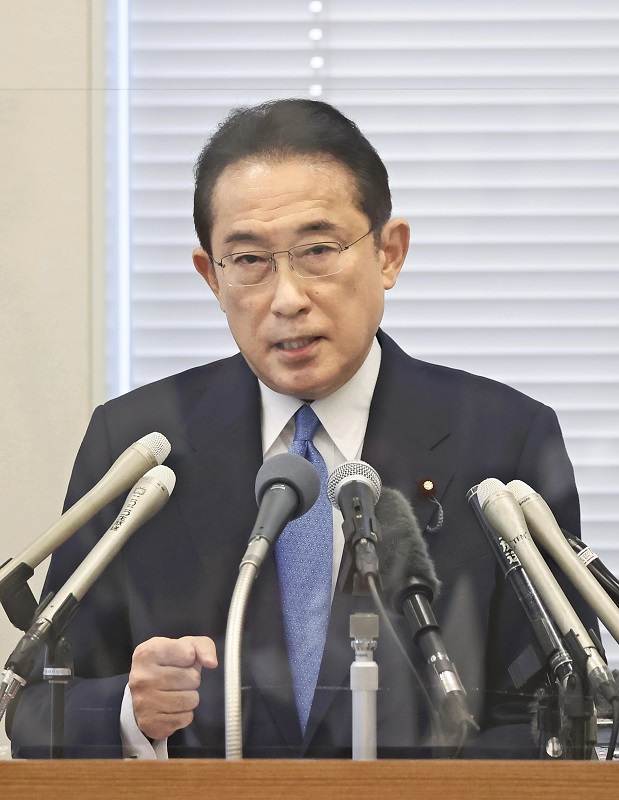 15:50 JST, August 27, 2021
Fumio Kishida, in announcing his candidacy for the Liberal Democratic Party presidential election at a press conference on Thursday, held up a small, old-style notebook as he emphasized his policy of staying close to the people.
The former LDP policy research council chairman said that over a 10-year span, he has been keeping a journal of people's requests and consultations. He has filled nearly 30 such notebooks, he said.
"These notebooks are a precious asset for me," Kishida said. "By listening to the voices of the people, I will devote my political life to showing new options for politics."
During the nearly two hour-long press conference, he sought to appeal to party voters by distancing himself from Prime Minister Yoshihide Suga.
Kishida made the final decision to run in the party presidential election, scheduled for Sept. 29, at the urging of younger lawmakers, who thought it best to prevent an uncontested re-election of the prime minister. He announced at the press conference his intention to appoint mid-career and younger lawmakers to LDP executive posts "to rejuvenate the party."
He also said he would seek term limits for such posts, proposing a maximum of three consecutive one-year terms, and would also set out to improve transparency on the issue of money in politics. Younger LDP members pressed for such policies in meetings with him up to the previous night.
The move comes amid severe public scrutiny of LDP Secretary General Toshihiro Nikai, who has held that post for over five years, the longest in history. Nikai caused controversy by commenting that the problem of money in politics was "getting pretty clean," and voices of dissatisfaction within the LDP are saying Nikai's presence itself is creating a headwind for the party.
Kishida's stance implicitly views Nikai's remaining as secretary general as a problem as he aims to win over those critical of Nikai.
The upcoming LDP presidential election will be significantly impacted by the voting of party members and fraternity members, a group allocated the same number of votes as those of Diet members. In the 2001 election, Junichiro Koizumi, who had been seen as outnumbered, won a landslide victory in a primary election with the support of party members, then shook things up by defeating Ryutaro Hashimoto, who was the leader of the largest LDP faction at the time.
As it will be difficult to physically campaign around the country due to the pandemic, Kishida plans to set up an online "suggestion box," while also making thorough efforts to reach out to people by phone.
"[Kishida] will have a chance to win if an avalanche of support comes his way from Diet and party members who are dissatisfied with the prime minister," said a mid-ranking Kishida faction member.
Meanwhile, Policy Research Council Chairman Hakubun Shimomura and former Internal Affairs and Communications Minister Sanae Takaichi also have party leadership aspirations, and are starting in earnest to gather the 20 endorsements from LDP Diet members necessary to become a candidate.
"It will be better for [Suga] if the votes are divided among many candidates, rather than going one-on-one against Kishida," a source close to the prime minister said.
Add TheJapanNews to your Google News feed.