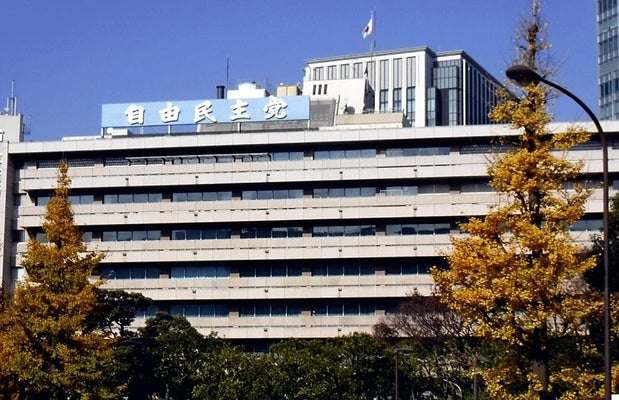 19:03 JST, August 27, 2021
Prime Minister Yoshihide Suga might be down, but he is not out. He remains determined to fend off his challengers in September's Liberal Democratic Party presidential election.
Suga is seeking reelection and aims to use the race to shore up party unity. However, lackluster public support for Suga's Cabinet and a string of defeats in local elections have stoked disillusionment with the prime minister. The result of the party's election will likely hinge largely on the extent to which former Policy Research Council Chairman Fumio Kishida can attract votes from lawmakers critical of Suga.
Suga has indicated he is determined to hold on to the top post as the government tries to bring Japan's surge in novel coronavirus cases under control. "Above all else, it's my responsibility to shut down the spread of coronavirus infections," Suga told journalist Soichiro Tahara at the Prime Minister's Office on Thursday. "I will do my best with everything I have."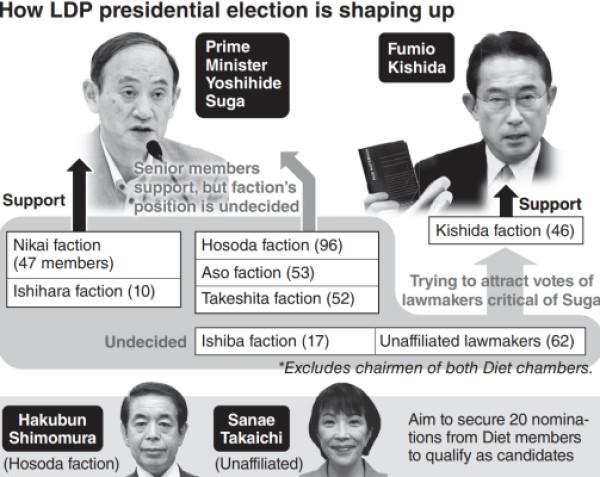 Campaigning in the party's presidential election will start on Sept. 17, with voting and ballot counting taking place on Sept. 29.
Suga initially wanted the LDP election to be held after the House of Representatives election and to win it unchallenged. However, coronavirus infections have not abated, so dissolving the lower house in September became a difficult plan to implement. Consequently, Suga has tweaked his strategy and plans to contest the presidential election by unveiling new policies in addition to playing up his achievements, including progress in the coronavirus vaccine rollout and the establishment of a digital policy agency.
"The prime minister wants to engage in lively debates to demonstrate his ability to send out clear messages, which has been said to be an issue," a close aide of Suga told The Yomiuri Shimbun.
Many LDP heavyweights — including party Secretary General Toshihiro Nikai, former Prime Minister Shinzo Abe and Deputy Prime Minister Taro Aso, who also is finance minister — have declared their support for Suga. At this stage, Suga's dominant position in the party remains unchanged.
However, support for Suga's Cabinet remains low, the LDP failed to win a majority in July's Tokyo Metropolitan Assembly election, and the party has been defeated in other local elections, including this month's Yokohama city mayoral race. These factors have accelerated moves by some LDP lawmakers to distance themselves from Suga, especially junior and midranking lawmakers at risk of losing their seats in the lower house election. It remains unclear whether Suga will repeat his landslide victory of the previous presidential election.
On Wednesday, members of a group of LDP lawmakers not affiliated with any faction and who are close to Suga held a meeting at the Diet Building. Deputy Chief Cabinet Secretary Manabu Sakai could not conceal his concern about the upcoming election. "I have absolutely no idea what the upcoming political calendar will be like," Sakai said. Another attendee said, "We can't put up a good fight in the lower house election with things the way they are."
At the party's Nikai faction meeting on Thursday, Taku Yamamoto, a former deputy agriculture, forestry and fisheries minister, complained about Nikai quickly announcing the faction's support for Suga. "Why are we supporting Prime Minister Suga when Mr. Nikai always tells us to listen to the voices of local people?" Yamamoto said.
A survey on the prospects for the upcoming lower house election conducted by the LDP last weekend also sent shivers down the spines of many party lawmakers. According to party sources, the survey projected the LDP would win about 240 seats — almost 40 fewer than it holds now. Although the survey indicated the LDP and its coalition partner Komeito would together secure a majority of the chamber's 465 seats, the electoral fate of about 40 lawmakers will likely hinge on how the situation unfolds over the coming weeks.
A former cabinet minister close to Suga also is concerned about what lies ahead. "A party presidential election requires excitement to boost the administration [in the eyes of the public], but if Mr. Suga gets dragged into a dogfight, it will become harder for him to run his administration even if he wins the election," the former minister said.
After the presidential election, calls within the LDP for the party's senior positions to get some fresh blood ahead of the lower house poll could mount, which could force Suga to make some difficult choices.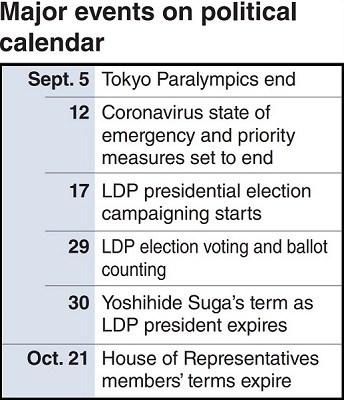 Add TheJapanNews to your Google News feed.