Japan govt to support development of small satellite constellation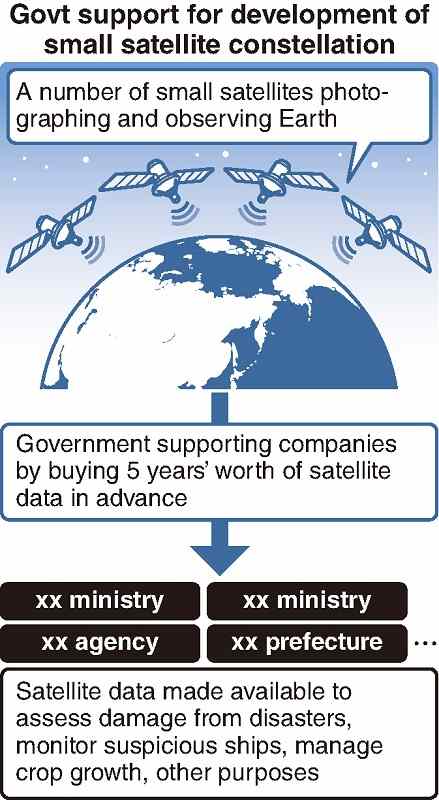 16:09 JST, July 19, 2021
The government will begin providing support to companies next fiscal year as it seeks the quick construction of a group of domestically produced small satellites, also referred to as a "satellite constellation," The Yomiuri Shimbun has learned.
By signing contracts to purchase about five years' worth of photographic and other data from satellites in advance, the government will provide companies with continuous support for fund-raising until projects can be put into commercial service. It will also foster international competitiveness among the companies.
An observation constellation comprises a group of small satellites weighing about 100 to 150 kilograms that are linked and operate in tandem.
The main selling point of such a constellation is that with a group of at least 30 satellites, any place on Earth can be photographed or observed within a few hours. The U.S. space company SpaceX is aiming to realize high-speed communications using more than 10,000 satellites. Such industries as agriculture, forestry and fisheries as well as transportation and logistics are expected to benefit from such constellations.
The government is placing particular focus on small radar satellites because of their potential for growth. These satellites have the advantage of being able to take images in bad weather and at night, which is difficult for satellites equipped with ordinary cameras. The data can be provided 24 hours a day to assess damage from earthquakes or floods, monitor suspicious ships and serve other purposes.
In Japan, development of small satellites mainly by start-up companies is progressing, but currently, only one or two have been put into operation or launched on an experimental basis. Companies have found it difficult to get their businesses off the ground, as the satellites need to be mass-produced even though few have been sold, and require the development of new technology to link the groups.
To support their efforts, the government intends to sign deals to purchase satellite data with companies that plan to launch 20 or more small satellites. It also will provide firms with financial aid over about five years to help cover development costs, which can run from several hundred million yen to several billion yen for one satellite. The purchased data will likely be made available to government ministries and agencies as well as local governments.
Competition in small radar satellite development has intensified. A Finnish company, which has a constellation of about 10 satellites, plans to enter the Japanese market, and a U.S. company that offers data to the U.S. Air Force has also appeared on the scene.
Before foreign companies take the lead in this field, the government will aim to create Japan's own satellite observation constellation by encouraging domestic companies to commercialize their technology and satellites.
Add TheJapanNews to your Google News feed.