Why do so many suffer memory lapses during Diet questioning?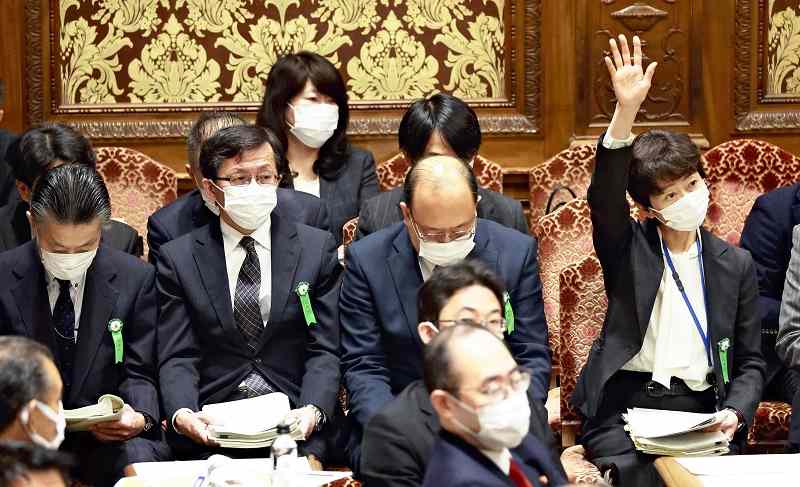 10:18 JST, June 11, 2021
One after another, individuals caught up in the scandal involving the wining and dining of senior Internal Affairs and Communications Ministry officials stepped up to give testimony in the Diet. And time and time again, the words "I have no recollection" came out of their mouths, hardly allaying any suspicions. Opposition parties have called for them to be summoned as sworn witnesses, which would then make them subject to punishment for giving false testimony.
It makes one wonder, why is the phrase "I have no recollection" used in the Diet so often?
Changing their stories
The focal point of the wining-and-dining scandal is whether or not government oversight of broadcasting was loosened as a result of the ministry officials repeatedly being treated to meals.
Yoshinori Akimoto was the director-general of the ministry's information and communications bureau when he was taken out on the town by broadcasting-related company Tohokushinsha Film Corp. on seven occasions.
On Feb. 10, Akimoto appeared at a House of Representatives Budget Committee session as an unsworn witness, where he answered "I have no recollection" when asked if the broadcasting business was brought up during the meals.
However, after a recording of the conversation was made public, Akimoto made an about-face and admitted to the allegations, adding, "I'm ashamed of my poor memory."
Yasuhiko Taniwaki, vice minister for policy coordination at the ministry at the time, appeared as an unsworn witness at a House of Councillors Budget Committee session on March 3. Asked about trysts with companies other than Tohokushinsha, he asserted he had none that would violate the ethics code under the National Public Service Ethics Law.
However, the weekly magazine Shukan Bunshun that hit newstands the very next day reported of his being wined and dined by senior officials at NTT. Taniwaki immediately retracted his statement, saying, "There were occasions I had meals with them."
With testimony being revised so frequently, Shinya Adachi of the Democratic Party for the People commented, "These are clearly false statements. The only way to prevent this is through sworn witness testimony."
Under penalty of perjury
The system for the summoning of sworn witnesses to give testimony in the Diet is based on Article 62 of the Constitution and the Diet testimony law. Unlike with unsworn witnesses, who are neither forced to testify nor subject to penalties, refusing to testify as a sworn witness without a good reason is punishable by no more than one year in prison or a fine of no more than ¥100,000.
A sworn witness who intentionally lies could be charged with perjury, which carries with it a penalty of three months to 10 years imprisonment. According to both chambers of the Diet, there have been a total of 24 cases of perjury. Recent cases include Muneo Suzuki, an upper house member who gave sworn testimony on his involvement in bid-rigging for aid projects in the Northern territories in 2002, and Takemasa Moriya, then vice defense minister who testified on a corruption scandal of the Defense Ministry in 2007.
It is customary that both sworn and unsworn witnesses are summoned upon agreement between the ruling and opposition parties. When the ruling bloc foresees such a move as being disadvantageous for them, it often does not come to pass, regardless of pressure from the opposition parties. Conversely, the ruling bloc sometimes uses the calling of such witnesses as a trump card to bring the curtain down on certain issues.
Dodging the question
The phrase "I have no recollection" is often used to fend off questioning. In the current Diet session, it has been uttered by a number of people besides Akimoto.
Regarding the company's violation of foreign capital regulations, Tohokushinsha President Shinya Nakajima appeared as an unsworn witness before the lower house Budget Committee on March 16. There, he explained that he had informed an Internal Affairs and Communications Ministry official of the illegality in advance.
However, the person in the ministry who was identified as being the one who was told "had no recollection" of it. In fact, Shinya Suzuki, the former head of the general affairs section of the information distribution administration bureau who is now the director-general of the radio department, repeated the phrase 13 times during questioning.
Furthermore, Internal Affairs and Communications Minister Ryota Takeda sent Suzuki into the session by telling him, "Say, 'I have no recollection.'" Takeda later explained, "I said that without thinking."
Regarding such exchanges, Constitutional Democratic Party of Japan member Seiji Osaka said cynically, "The phrase 'I have no recollection' has been the go-to answer in the Diet since the Lockheed bribery scandal."
In the Lockheed scandal, said to be the worst scandal in post-war Japan, Kokusai Kogyo owner Kenji Osano was summoned to the Diet as a witness in 1976, but fended off questioning by repeatedly saying, "I have no recollection." The phrase ended up becoming one of that year's "words in vogue."
"If witnesses say they have no recollection without making clear statements on the facts, it will not be grounds for perjury, so it came to be used by Diet witnesses," said Reiko Oyama, a professor at Komazawa University on political system theory.
As for the current situation in which unsworn witnesses who need not worry about perjury charges also employ the phrase, Oyama pointed out, "It is now widely used to avoid responsibility. Even so, the fact that criticism of the government does not increase is probably because most politicians lack a sense of seriousness even at a critical moment."
The public distrust in politics will only grow if the lack of truth continues in Diet deliberations.
Add TheJapanNews to your Google News feed.