LDP veterans working to bolster junior lawmakers' foundations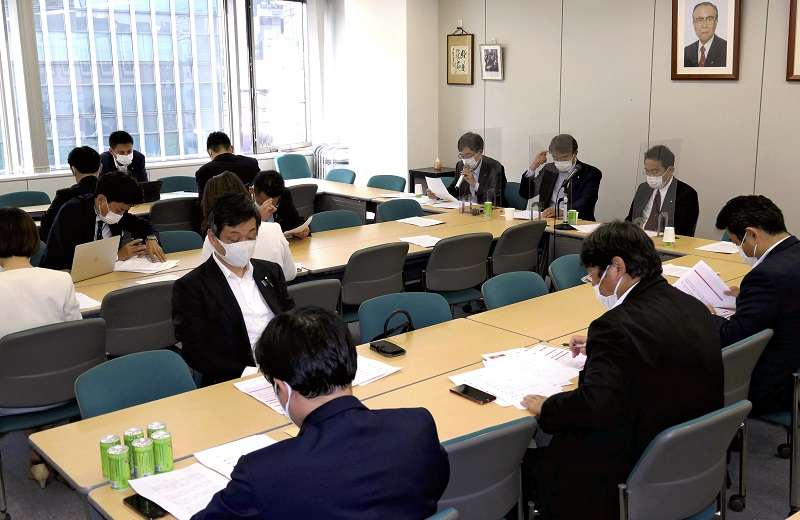 11:54 JST, May 31, 2021
The ruling Liberal Democratic Party is becoming increasingly concerned in the run-up to the upcoming House of Representatives election about the vulnerability of its junior lawmakers, and senior party members are responding by working diligently to help those legislators strengthen their political foundations.
LDP candidates in April lost in a special election for a House of Councillors seat in a Hiroshima prefectural constituency and a by-election for an upper house seat in a Nagano prefectural constituency. Both races showed that lower house members will need to work much harder to win over voters.
Another cause of unease is a series of internal conflicts in the LDP's regional branches that are the result of weaker relationships between Diet members and local legislators.
'Build up your strength'
"From now on, you have to constantly build up your strength," former Health, Labor and Welfare Minister Takumi Nemoto told a group of junior lower house members on May 26. Nemoto is a senior official of an LDP faction led by former LDP Policy Research Council Chairman Fumio Kishida.
Nemoto organized the event at the faction's Tokyo office for a group of more than 10 lawmakers who have been elected to the lower house three times or fewer.
Lower house member Minoru Terada from Hiroshima Constituency No. 5 was the main speaker at the event, and he talked of ways to build relationships with supporters. Terada was chosen to speak because in his constituency, the LDP candidate received more votes than the opposition candidate in the Hiroshima special election.
The impetus for the event came from the fact that the Kishida faction suffered a bitter defeat in the Hiroshima special election even though the faction made a concerted effort to win with Kishida, who serves as chairman of the federation of Hiroshima LDP branches, leading the effort.
Toward the end of the campaign, it was discovered that leaflets that should have already been distributed were piled up in the offices of junior lower house members and that calls to supporters' associations had not been thoroughly made. There was widespread concern within the party. "The lower house election could also be a disaster," a senior LDP official said.
Such issues were discussed at an executive meeting of the party's Election Strategy Committee held on May 20. According to those in attendance, the committee's chairman, Taimei Yamaguchi, said, "You can't gather votes from the internet alone." Yamaguchi called on each faction to provide strong guidance since younger lawmakers rely too heavily on social media.
Veteran LDP members have been concerned for some time about the future of junior lawmakers, especially those who have won their past three lower house elections. These politicians were first elected to the House of Representatives in 2012, the year the LDP regained power. They also won in 2014 and 2017, riding the coattails of then Prime Minister Shinzo Abe.
"A number of lawmakers were elected without solidifying their support base," a veteran LDP member said.
About 40% of the LDP's lower house members have been elected three times or fewer. Since their performance will determine the party's fate, Abe has been consistently providing election guidance to young and mid-level members of a faction led by Hiroyuki Hosoda. Abe is originally from the Hosoda faction.
Internal conflicts at local branches
The LDP, which has won three consecutive lower house elections, is also facing infighting at the local level because an increasing number of Diet members are neglecting to build relationships with regional legislators who are frustrated with the lack of progress in replacing Diet members.
In Tokushima Constituency No. 1, the federation of Tokushima LDP branches asked party headquarters not to endorse incumbent Masazumi Gotoda. Yoshiaki Harada, a former environment minister, is scheduled to run in Fukuoka Constituency No. 5, but an LDP prefectural assembly member also wants a shot at the seat.
The decline in the coordination skills of Diet members is also casting a shadow over local elections. For the Shizuoka gubernatorial election in June, candidate selection proved difficult and, ultimately, a former LDP upper house member was chosen over the cautious view within the party.
The LDP's Hyogo prefectural assembly has been divided over fielding a candidate in July's gubernatorial election, and a split election is inevitable.
"The LDP needs to rethink its strategy of finding candidates and getting them elected," said Kazunori Kawamura, an associate professor at Tohoku University. "They need to find people who can win without the party's nameplate. It will be a question of the discernment of the party and Diet members."
Add TheJapanNews to your Google News feed.