Japan opposition leader calls for suspension of U.S. base relocation in latest book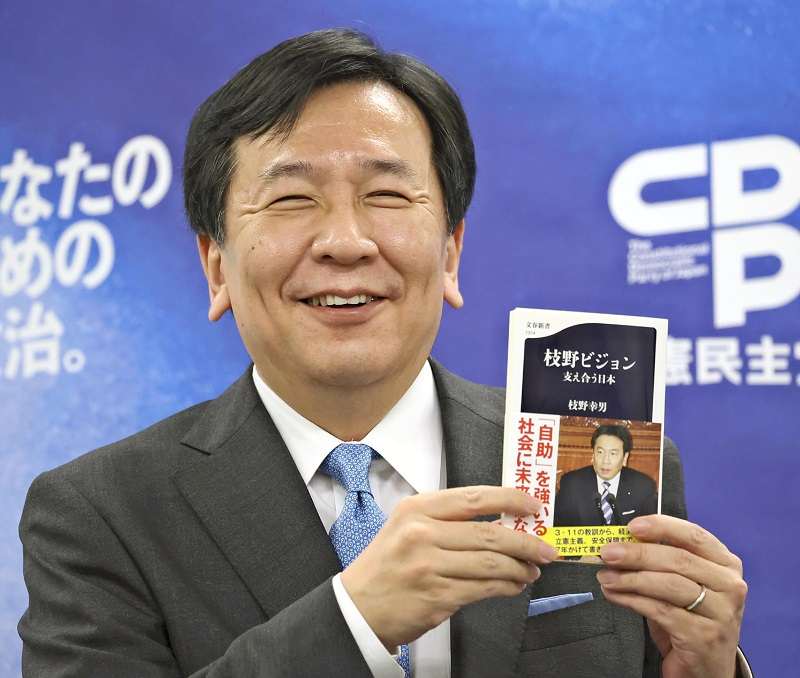 9:26 JST, May 22, 2021
Constitutional Democratic Party of Japan (CDPJ) leader Yukio Edano has called for the relocation of a U.S. base in Okinawa Prefecture to be suspended in his latest book, "Edano Vision: Sasae-au Nihon (A Japan in which people support each other)."
With his eyes fixed on the House of Representatives election to be held by autumn, Edano has outlined his vision for a CDPJ administration in the book, which was published by Bunshun Shinsho on Thursday.
However, questions have been raised regarding the feasibility of his policies.
At a press conference in the Diet building on Wednesday, Edano said the aim of the book was to "properly organize my ideas regarding what kind of society I have been trying to realize, and present them to the public."
The government has been pushing ahead with work to relocate the U.S. Marine Corps' Futenma Air Station in Ginowan to the Henoko district in Nago. Edano is calling for the project to be suspended.
The administration of the then-Democratic Party of Japan (DPJ), in which Edano served as a Cabinet member, called for the base to be relocated outside Okinawa Prefecture, but later abandoned the idea as it could not find an alternative idea, triggering a backlash in the prefecture.
"The relocation has been made more difficult because the DPJ administration made the unrealistic proposal of relocating the base outside the prefecture, but [the lawmakers from the former party] have not reflected on its conduct at all," said a senior official of the ruling Liberal Democratic Party.
In the book, Edano indicated that he considers the Japan-U.S. alliance to be the cornerstone of Japan's security policy, but he has opposed a government's position on the right of collective self-defense in a limited manner, which is the basis for deepening the Japan-U.S. alliance.
Edano's stance on the Japan-U.S. alliance is far from the policy of the Japanese Communist Party (JCP), with which the CDPJ has been deepening cooperation ahead of the upcoming election.
JCP leader Kazuo Shii has been pressing the CDPJ to reach an agreement on policies, stating it is an "indispensable precondition [for the two parties] to advance cooperation in the election in earnest."
On domestic affairs, Edano has called for more to be done toward redistribution of income, citing concrete policies such as the conversion of the status of nonregular workers to that of regular workers.
Edano said that as the book was published under his own name, it is different in scope from what will be presented in his party's campaign pledge for the lower house election.
Add TheJapanNews to your Google News feed.