Japan relaxing rules to promote development of drone delivery services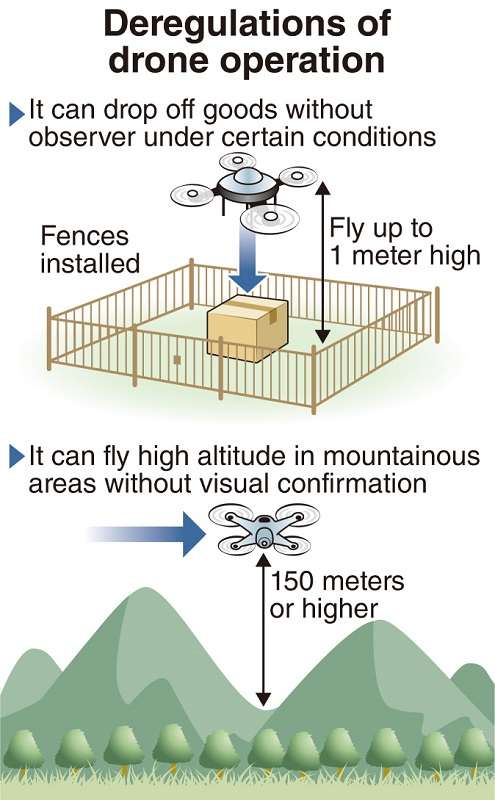 10:26 JST, May 1, 2021
The government is relaxing flight rules to expand the use of drones for logistics. The government has already submitted a bill to the current ordinary Diet session aiming to revise the Civil Aeronautics Law mainly to expand the range in which the small unmanned aircraft can operate. In the meantime, it is going ahead with deregulation, such as by revising safety standards, as a feasible approach to promote the roll-out of drone logistics.
On March 30, the Land, Infrastructure, Transport and Tourism Ministry revised its safety standards for drone flights, including its rules for dropping packages off from the air.
In the past, an observer had to be dispatched for visual assistance to a site where parcels were dropped off. After the revision, this operation can be done without the presence of an observer as long as goods are dropped off from a height of 1 meter or less into a zone encircled by a fence to keep people out. The revision is to cut labor costs and also manpower.
In addition, the ministry also permitted the flying of drones at a height of 150 meters or more without visual confirmation in mountainous areas where there is virtually no risk of third parties entering flight areas. This enables drones to pass through deep valleys in a straight line, ensuring efficient flight routes. In the past, an observer had to be dispatched for high-altitude flight beyond the visual line of sight of an operator to avoid contact with aircraft and to prevent third parties from entering areas where drones fly.
The presence of observers has also become unnecessary for flights above 150 meters around high-rise buildings, making it easy to conduct building inspections and other work.
Paperwork has also become simplified. On March 30, the Cabinet Secretariat issued a guideline stating that legal procedures for flight approval are unnecessary if a drone simply passes over a road, river or port, eliminating the need for drone operators to coordinate with relevant organizations.
Administrative and regulatory reform minister Taro Kono told reporters on March 30, "We aim to promote online and one-stop procedures under the Civil Aeronautics Law and other regulations [in cooperation with the transport ministry]."
A number of regulations govern the use of drones to ensure safety. Government permission is required in principle for flying in densely populated areas or at heights of 150 meters or more above ground.
The government has submitted a bill to revise the aeronautics law, including the establishment of a drone license system. The goal is to allow, possibly by fiscal 2022, drones to fly beyond the visual line of sight in inhabited areas — which is currently prohibited — after ensuring the safety of the drone and the ability of the operator to some degree.
Drones are currently used for crop-spraying and inspecting bridge piers. The government aims to expand the use of drones to include such services as logistics in an effort to ease the serious labor shortage in the truck transportation industry.
According to an estimate by research firm Impress Corp., the domestic drone market is expected to expand from ¥140.9 billion in fiscal 2019 to ¥642.7 billion in fiscal 2025.
Commercial use in logistics has advanced in such countries as the United States and China.
Add TheJapanNews to your Google News feed.