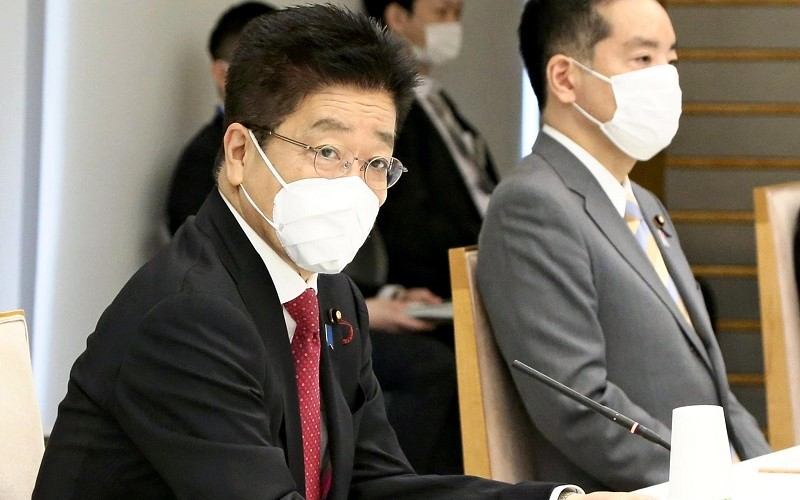 14:11 JST, April 28, 2021
The government's conference for digital market competition released a final report on digital advertising displayed on websites and other media on Tuesday. The report said that transparency has been diminished by the oligopolization of the market on the part of giant information technology companies, and that the government plans to require the tech giants to disclose the terms and conditions of their deals and report on the status of their efforts.
The government will add the digital advertising market to the scope of the Improving Transparency and Fairness of Digital Platforms Law, which came into effect in February to regulate tech giants. Currently, online malls and app stores are covered by this law. The government plans to revise the related government ordinances as early as in spring 2022.
Chief Cabinet Secretary Katsunobu Kato, who chaired the conference, said: "Many issues have been pointed out, such as fabricated invoices and [the need for] consideration for privacy. It is necessary to ensure fairness and improve transparency for sound development."
Many digital ads are delivered via targeted advertising, a method that displays advertisements according to the interests of individuals based on their website browsing information. Search engines such as Google LLC and Yahoo Japan, social media services such as Facebook and Instagram, and video services such as YouTube have a large number of users, and information is easily gathered by the IT companies that operate them. Some of these tech giants oligopolize the system in which online advertising is traded, putting advertisers and media in a weak position.
The report pointed out that such oligopoly risks damaging the competitive environment, transparency and the quality of advertising and information. As specific examples, the report pointed to concern that tech giants will engage in preferential deals to distribute ads to their own sites, and that there is a risk that advertisements will be displayed on unsavory websites outside the advertiser's intention.
Businesses subject to the law will be required to disclose to advertisers, media and other business partners the details of their efforts to correct these problems, as well as the rules and reasons for changes in transactions, and report annually to the economy, trade and industry minister on the status of their efforts. The government will also listen to the opinions of advertisers and media outlets and continuously monitor whether the efforts are appropriate.
Add TheJapanNews to your Google News feed.