Emergency-level measures to be expanded to cover 36 municipalities in Japan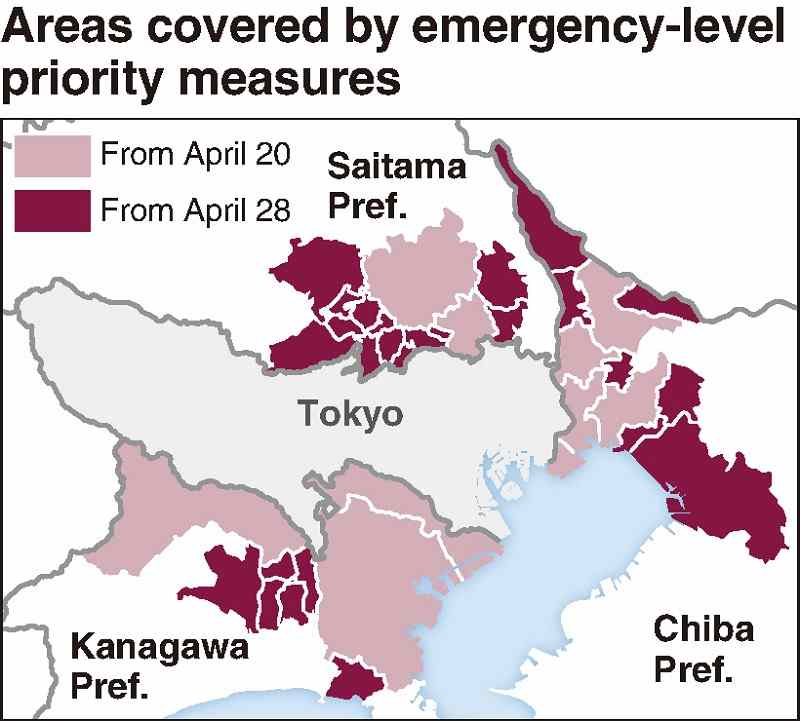 14:39 JST, April 25, 2021
The three prefectures of Kanagawa, Chiba and Saitama have decided to expand the areas covered by emergency-level priority measures, in a bid to prevent the further spread of the novel coronavirus.
Currently, a total of 10 cities are covered by the measures in the three prefectures, which are adjacent to Tokyo. This will be expanded to 36 municipalities. The expansion will take place Wednesday, to ensure enough time to inform businesses.
The three prefectures will call for restaurants and bars in the relevant areas to shorten their business hours to close at 8 p.m. and stop serving alcohol throughout the day up through May 11. Department stores and other large-scale facilities that attract many customers will also be asked to limit the number of people who can enter — not only in the relevant areas but throughout the prefectures.
Kanagawa Prefecture will add six more cities, including Kamakura. This will bring the total to nine, including Yokohama, Kawasaki, and Sagamihara, which are already covered. Kanagawa Gov. Yuji Kuroiwa sought the understanding of the public, saying, "This is to prevent the spread of infection and protect your lives."
Chiba Prefecture will add seven more cities, including Chiba City, to the current five of Ichikawa, Funabashi, Kashiwa, Urayasu and Matsudo, for a total of 12 cities.
"This is a short-term, intensive measure to curb the movement of people during the [Golden Week] holiday period," Chiba Gov. Toshihito Kumagai said.
Saitama Prefecture, which had applied the measures to Saitama and Kawaguchi, will add 12 cities and one town to its list. It will also ask restaurants and bars throughout the prefecture to refrain from serving alcoholic beverages.
Saitama Gov. Motohiro Ono said it was decided to implement the expansion from Wednesday in a bid "to seek the best timing before the holiday period."
Add TheJapanNews to your Google News feed.