Komeito pledges full support for LDP in election reruns in western Japan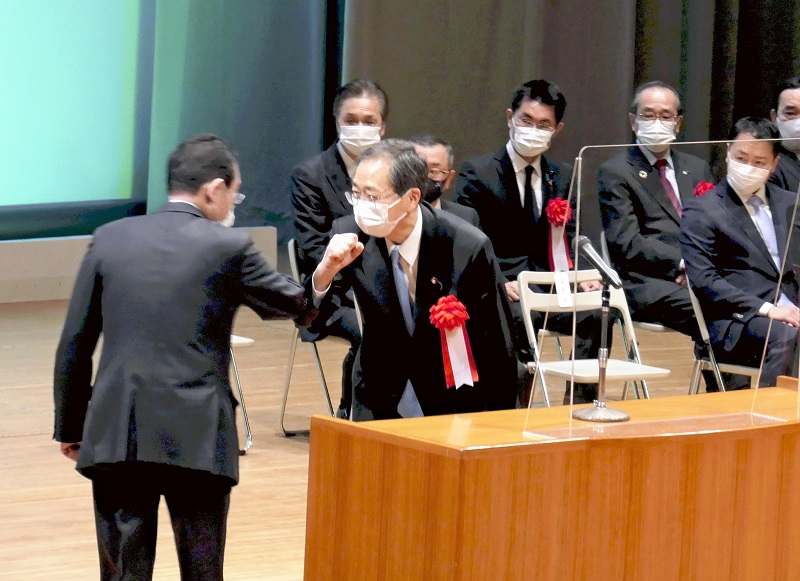 19:25 JST, March 28, 2021
The Komeito party, looking to resolve a rift with the ruling coalition partner Liberal Democratic Party, is making efforts to build a support system for the LDP candidate in the re-holding of the election of the Upper House's Hiroshima constituency to be held on April 25.
The move stems from smoldering dissatisfaction within the LDP's prefectural chapter over the decision that Komeito Deputy Representative Tetsuo Saito would be the ruling party candidate for Hiroshima's No. 3 constituency in the lower house of the Diet.
By offering full support in the election rerun, Komeito hopes to resolve the standoff between it and the LDP.
"I am extremely grateful to the ruling coalition for making me the unified candidate, and express sincere apologies for trouble we have caused you," Saito said on Saturday while attending the convention of the LDP's prefectural chapter in Hiroshima as a special guest. "I am determined to mobilize the strength of our party and offer our full support in the upcoming election."
Ahead of the convention, Saito attended a political fundraiser for former LDP Policy Research Council Chairman Fumio Kishida, where he stressed the importance of cooperation between the LDP and Komeito.
For Saito to win the election in Hiroshima's No. 3 constituency, a foundation of Komeito votes will not be enough, making it essential that he gain the backing of LDP supporters. However, not all within the LDP's prefectural chapter are so willing, saying, "It's hard to understand why we are being asked to cooperate [with Komeito] after they took away our constituency."
With regard to the April election, some in the prefectural chapter insist that the LDP could win on its own, without Komeito. They refrained from submitting requests for endorsements, and only did so after the LDP headquarters intervened. Komeito promptly provided the endorsements, but word got out that some still questioned the need to press for support.
The election is being held again following the invalidation of the one won by Anri Kawai, who was found guilty in a large-scale bribery case involving the 2019 Upper House election. Kawai subsequently left the LDP. The scandal has made it difficult for local LDP members to offer support for candidates.
In light of this situation, Komeito is prepared to provide full support for those expected to be LDP candidates. This past weekend, Minoru Harada, president of the Soka Gakkai religious group that is Komeito's main base of support, arrived in the region to give the party a rare boost.
"We want to show our fundamental strength in the reheld election in order to ensure full electoral cooperation in the next lower house election," said a senior Komeito official.
Add TheJapanNews to your Google News feed.